Each painting captures and freezes a moment in time. Each moment brings forth a memory or mood that is both nostalgic and unforgettable whether it is a helmet worn in the championship game or a patchwork quilt, hand stitched by your grandmother, or simply an old jar or crock that brings back a place or time or special person.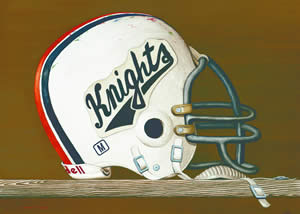 "Knights"
The great thing about the high school game is that it is the very top level of purely amateur football. It is the level where an untried kid can suit up and go out on the gridiron to test himself.
Beyond are college players lured by scholarships and dreams of playing professionally. Beyond that are the pro's who are wrapped up with wealth and fame.
In this little corner of the world the North Davidson Senior High School "Black Knights" are always the team to be reckoned with. They are always tough, always competative, and always a winner even if the score might go the other way.
The battered helmet used as subject matter belongs to Quarterback Jeffery L Nicholson, Class of '84.
This small tribute was painted by Dempsey Essick, one of the top painters in North Carolina and, coincidentally, a former Black Knight halfback/defensive end (number 30) and graduate in the class of 1972. Go Knights!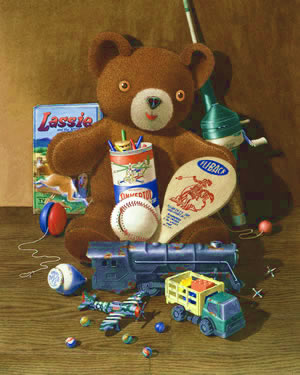 "The Kids Room: A Pair of Prints"
Tucked away in almost everyone's storeroom or attic is an old box of toys. The battered survivors of many hours spent in a world of make believe. It was a world that existed in our mind, perhaps, but it was the world where we were master and where the sun climbed over the trees with a golden promise each morning and all those make believe friends loved us and behaved exactly as we wished.
Later in life, when we have kids of our own, they are sometimes allowed to play with our old friends but there is always the anxiety that one will be broken and there is almost always one or two special toys, a doll, a toy train, that even our own children are not allowed to do more than hold for a few minutes. This may seem selfish but it is actually the process of holding on to a dream. And in holding on to our dreams we gain a better understanding of our own children. We allow them to dream their own dreams and perhaps we may put some of their toys in a box for their eventual return home in search of those magic years.
Under the overall title "THE KIDS ROOM" Dempsey Essick has created companion paintings honoring little boys and little girls with the individual titles "HIS THINGS," and "HER THINGS." To populate the paintings with a representative selection of toys primarily from the "Baby Boomer" generation he borrowed from several sources to augment items that belong to he and his wife, Shelley, and their grown children, John and Beth. From the Baptist Children's Home Museum he got jack-rocks, a child's sewing machine, a yo-yo and a Fly-Back paddleball.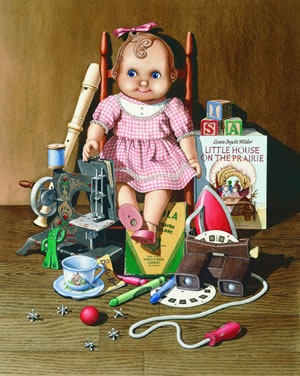 Mickey Huffman loaned the Kewpie doll with the articulated wooden arms and legs which is the central figure of "HER THINGS.' The Teddy Bear in "HIS THINGS" is like the one Dempsey grew up with. Dempsey also furnished his old train engine along with some marbles and a model of the fighter plane used by the famous Ace Frank Gabreski. The fishing rod belonged to Dempsey's grandfather, Olin Essick. Olin's great grandson, John, provided an old baseball and a Tonka truck to balance great granddaughter Beth's recorder and surviving cup and saucer from her tea set. Caroline Baker provided a genuine Gumby and Shelley furnished the Barbie & Ken book along with the iron and purse.
Three alphabet blocks with the letters I, S, and A form a silent tribute to three ladies who figured prominently in Dempsey's early career. The "S" is for Sallie Parnell, ("Aunt Sallie's Loom"). The "A" is for Alice DeLapp, ("Good Morning Miss DeLapp"). And the "I" is for Irena McCormick, ("Springtime at Irena's"). These wonderful ladies are no longer with us but they will live forever in our hearts.
In the two complimentary pictures Dempsey Essick is at his best. He has captured the essence of childhood and projected that wonderful time of life onto the broader screen of adulthood. In the process he not only has reminded us all from whence we came but has forecast something of the future. No grownup can fail to smile when viewing the two paintings of THE KIDS ROOM because every man and woman will see something familiar, something to bring back those days when they were boys and girls and the whole world was encompassed by their boundless imagination.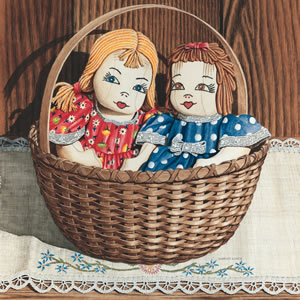 "Forever Girlfriends"
Waifs - abandoned and put up for disposal at an area yard sale, these sisters were rescued by Dempsey Essick's wife, Shelley, for only IO¢ each. "I thought the price read $10 when I ran up and grabbed them," Shelley said. "And I would have paid $10 each for them. They are among my most prized possessions. I even have it in my will that John gets the one in blue and Beth the one in red."
After a caring sponge bath, both girls emerged bright eyed and happy, ready to bring joy into the lives of every little girl of whatever age.
Dempsey Essick has placed the two dolls in a beautiful hand woven basket on a handmade table runner. His faithful rendering of the fabrics as well as the wood grain of the basket is unexcelled. The viewer is tempted to touch the picture just to be reassured that it is indeed a flat watercolor print.
Dempsey has chosen this painting as to be reproduced as his 2000 Christmas ornament. The keepsake, which will proudly adorn any tree or may be placed on a ribbon and worn as a necklace, is available through the Essick Gallery.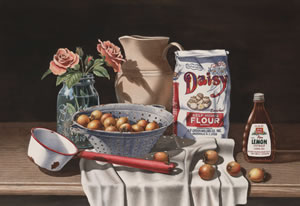 "October's Treat"
Mmm, persimmon pudding.
Folks in David County may remember this old-fashioned treat when October rolls around. That's why artist Dempsey Essick has chosen this delicious dessert as the focal point of "October's Treat".
Sadie Naylor – "Granny" to her family – knew how to make persimmon pudding. She never made a dessert without Daisy Self-Rising Flour, made in Mocksville by J.P. Green Milling Co.
The mill is still in existence, and is run by Mrs. Naylor's grandson, Ralph.
The mill was formed around 1836, when Davie County split off from Rowan County. When J.P. Green purchased it in 1911, he disassembled it from Dutchman's Creek and reassembled it at its current location, 496 Depot Street in Mocksville, where it's operated ever since.
"The actual structure has been around a long, long time", Ralph says.
Mr. Green was an uncle of Granny Naylor's husband, Floyd. In fact, the couple met when thay worked at the mill. Mr. Naylor later became a partner in the mill, and bought it outright in 1951. The Naylors called one another "Granny" and "Pappy".
Besides producing Daisy Flour, the mill also makes hush puppy mix, Liberty Cornmeal and Winner Feeds. If offers 24 kinds of poultry feed alone, Ralph says. The mill delivers its goods within a 450 mile radius to restaurants, fish camps, small country stores and small supermarkets.
Ralph remembers his grandmother as a good cook and a hard worker, as well as someone who always took care of her family.
He also remembers Granny Naylor's persimmon pudding, although he admits his favorite dishes were her Irish potatoes and her biscuits.
Granny Naylor's Persimmon Pudding
2 cups persimmon pulp
2 cups sugar
4 eggs
2 sticks margarine or 1/2 pound of butter
1 3/4 cupa Daisy Self Rising flour
1 cup milk
2 teaspoons vanilla or lemon flavoring
Mix all ingredients together but margarine. Melt 2 sticks margarine in Pyrex dish. Let cool and pour mixture in dish. Top with 1/2 cup brown sugar. Dice 1 stick margarine over top. Bake 45 minutes at 325 degrees. Turn off oven and let set for 10 minutes
In "October's Treat" it looks as if Granny Naylor is ready to make a recipe of persimmon pudding.
A colander full of just-ripe persimmons awaits – no "persimmon pucker" here. There's also a ladle and a pitcher of milk, along with Ann Page lemon extract, and of course, a five-pound bag of self-rising Daisy flour. All of these cooking utensils were owned by Granny Naylor, who died in 1994 at the age of 89.
Because Granny Naylor was also known for her roses and other flowers as well as her cooking, a Ball jar filled with two perfect pink roses completes the scene.
Mrs. Naylor's daughter, Janie Cozart, now makes the dessert using her mother's recipe.
"It tastes just like Granny's" says Nan Naylor, Ralph's mother.
"October Treat" is the second in a series of paintings based on settings in Davie County. The first piece was the Old Courthouse in downtown Mocksville, which was released in 1997.
Dempsey hopes that his friends in Davie County – and elsewhere – will enjoy "October's Treat".

"Bonny Baskets: A Set of Three"
Autumn is the time when nights are cool, the grain fields are golden and the limbs of the fruit trees bend almost to the ground under the weight of apples, peaches, and pears. It is part of the yearly cycle that guarantees food through the long days of winter.
To celebrate nature's bounty, Dempsey Essick has created three paintings which depict baskets of apples, peaches, and pears, all fully ripened, juicy and freshly picked. The paintings are a matched set and, in a significant break with traditional print offerings, each set is numbered and issued as a single unit.
For his baskets, Dempsey chose and antique egg basket that belongs to his wife, Shelley, for the peaches. For the pears, he selected a basket of Margaret Hedrick's. Margaret's basket features an unusual node on the handle which fits under the rim and prevents the handle from being pulled out. The apple basket is a twill woven pattern designed and made by Joyce Tetter.
Collectors of Essick's work know that his subjects will be rendered with absolute fidelity to the originals. In "Bonny Baskets" (Bonny: Scottish for beautiful) they will not be disappointed. Each splint and stave has had as much attention as the perfectly toned and shaped fruit. The viewer might even get the illusion that she can detect the smell of peaches or hear insects buzzing around the pears.
Framed together, "Bonny Baskets" form a stunning triptych. Framed individually, they offer some creative possibilities for a room or rooms. In either case, the prints are a worthy addition to Dempsey Essick's body of work.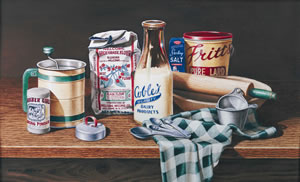 "Timeless Recipe"
The ingredients of this painting are no strangers to anyone familiar with southern cooking. In fact, countless mornings have been spent mixing these various ingredients before the sun has even risen.
2/3 - 3/4 cups of buttermilk
1 - flour sifter
1/4 cup - shortening (lard)
1 - rolling pin
2 cups - all purpose flour
1 - dough bowl
1 teaspoon - iodized salt
2 - measuring cups
1 tablespoon - baking powder
Bake at 500 degrees for 8 to 10 minutes or until golden brown.
The painting itself includes different historical items from Davidson County. Dempsey has selected a unique group of local memorabilia for the painting "Timeless Recipe." A Coble Dairy milk bottle, a Fritts lard can, a Welcome Mill Flour bag, and a biscuit cutter from our friends at the Fancy Pastry Bakery, are the main components. An antique sifter, dough bowl, baking powder can, and salt box, are also incorporated into the painting.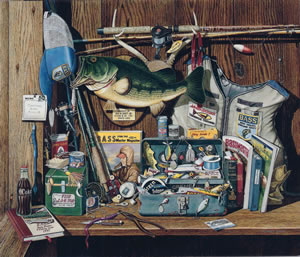 "The B.A.S.S.
®

Corner"

In just three decades the Bass Anglers Sportsman Society has elevated the sport of tournament fishing to major league status. To celebrate it's first thirty years, B.A.S.S.® asked well-known artist Dempsey Essick of Welcome, North Carolina to create a special anniversary painting. Essick responded with a magnificent and nostalgic painting which he called "The B.A.S.S.® Corner".

The painting portrays a catchall shelf that might be found in any angler's home. In the garage perhaps, a place for his tackle box and enough room left over to repair a reel or tie a fly. And, maybe, a little space for those older pieces too precious to throw out.

For a focal point, and to represent the beginnings of B.A.S.S.®, Essick used a mounted bass that Ray Scot caught in 1966, about the time that Ray started raising money to promote his first tournament. Hanging from the trophy's lip is the lure Stan Sloan used to win the very Bassmaster Tournament in 1967. On the rack of antlers is the rod, reel and lure used by Essick's good friend David Fritts to win the 1993 Classic Championship.

In the mix of old and new there is a copy of the first Bassmaster magazine and, close by, a Lowrance Fish Finder from the 1960's. On the fish finder, alongside the fisherman's basic food of Vienna sausage and crackers, is Mark Menendes' spinner bait from the 1997 Megabucks event. In the tackle box lid is a yellow whistle shaped like a lure. The whistle carries Brian Kerchal's name, in memory of his habit of blowing a whistle each time he caught a bass. Bryan was tragically killed in an air crash after winning the 1994 Classic at High Rock Lake, NC, not far from Dempsey Essick's home.

Viewers tend to get up close to an Essick painting in order to appreciate the depth and subtle detail of a master watercolorist's work. Fishermen, as their eyes sweep diagonally from the cap in the upper left to the lower right where Essick's sculptured bookend completes the picture, will find themselves smiling as the painting evokes memories of a glass-smooth inlet early in the morning and the quiet splash of a lure dropping beside an old stump.

B.A.S.S.® founder Ray Scott said a recent interview, "A beckoning to the water is in the soul of all men." Ray was talking about a spiritual beckoning. Dempsey Essick's "The B.A.S.S.® Corner" is, in the final analysis, a visual beckoning.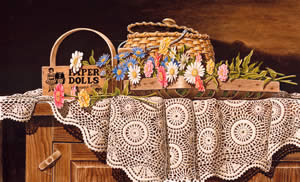 "Country Elegance"
For the third consecutive year, Artist Dempsey Essick has been asked to originate a special painting for First Night Piedmont. Inspired by the overwhelming success of past First Night projects, Essick has created a masterpiece for First Night '95. "Country Elegance" is perhaps the most beautiful and visually arresting still life in his entire body of work.
Essick has always been drawn to the feel and texture of old wood. For "Country Elegance" he went back to Carolyn Phillips' restored log cabin in Davidson County, North Carolina, which was the setting for his recent release, "Summer's Treat". He draped a hand crocheted dresser scarf over Carolyn's antique cupboard which was in the cabin, then he arranged a tobacco drying tray, a child's carry-box, and one of Joyce Tetter's hand woven baskets; on the top. For color and depth he randomly scattered a profusion of Daisies, Asters and Zinnias across the arrangement.
The resultant picture, with its background which deepens from brown to almost black is reminiscent of the work of some of the nineteenth century realists. As the viewer examines the details of wood grain, basketry and flowers so real one can imagine the fragrance, the eye is drawn back time and again to the crocheted dresser scarf which is the central focus of the picture. The fine detail of Essick's brushwork depicts each fold, loop, knot and thread in an almost three dimensional rendering which seems to extend outward, beckoning the viewer to reach out and touch.
Part of the fascination an art collector has for the work of a particular artist or group of artists is the mystery of how the mind and hand of a mortal man can master so simple a thing as paint and a brush and use it to create a beautiful picture that contains more realism than a photograph by virtue of the fact that it encompasses not only a moment in time, but the compilation of moments as stored in the mind of the artist.
In "Country Elegance," Dempsey Essick has not only demonstrated the skill of a master painter but has allowed the viewer a look into his mind.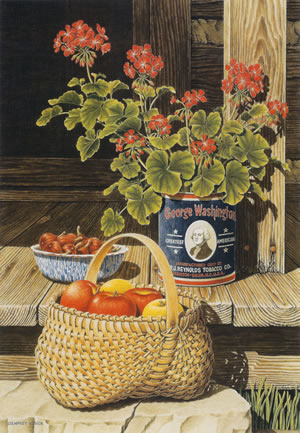 "Summer's Treat"
Dempsey Essick is not a person to feel let down after the summer solstice when the sun sets a little sooner and each day gets a little shorter. For Dempsey, the late summer is a time when geraniums bloom and the Jonathan-Red apples and figs out behind Carolyn Phillips' and Aunt Sallie Parnell's houses are ripe.
Carolyn is Aunt Sallie's daughter and she lives next door to her mother. She introduced Dempsey to the subtle flavor of ripe figs when he was working on his painting, "From Aunt Sallie's Loom". Since then, one of his most enjoyable summer past times is to sit on the porch of the old log house that Carolyn and her late husband, Otis, moved to the property. There Dempsey revitalizes his creative spirit with fresh figs while listening to the afternoon song of the mocking birds and wrens and the drone of june-bugs in the nearby bushes.
For "Summer's Treat," Dempsey has arranged some of his favorite things on the porch of the Phillips' log house. In the foreground is a handwoven egg basket filled with Jonathan-Red and Golden Delicious apples from Carolyn's trees. The enamelware pan just behind the egg basket was a gift from another dear friend, Miss Jane, "Miss Jane's Wash Day" - 1991. The figs, like the apples, were picked from Carolyn's bushes. To dominate the scene and provide a color contrast, Dempsey has used an old cut-plug tobacco can as a container for a blooming geranium.
Dempsey Essick's great talent is his ability to capture the natural sparkle in any object he paints. His paintings are more than just pretty pictures; they are moments in time that stimulate memories in those that view his work. His rendering of the apples and figs in "Summer's Treat" is without fault and his geranium displays the translucent quality of the actual flower.
The texture evident in the weave of the egg basket as well as the grain of the wood on the porch are the result of hours of very meticulous brushwork which has become an Essick hallmark.
"Summer's Treat" is an excellent example of Dempsey Essick at his best.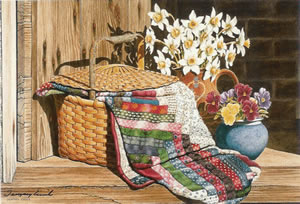 "Carolina Heritage"
After the overwhelming success of his special release "First Tracks", which was painted to raise funds for the First Night '93 New Years celebration in Winston-Salem, Dempsey Essick was asked to originate a new painting to support First Night '94.
Dempsey's challenge was to create a painting which incorporated items from each of the areas in North Carolina where First Night festivities were to take place. He has responded to the challenge with what is perhaps his strongest painting to date. "Carolina Heritage" offers the viewer a sensory feast of color and texture in the best Essick tradition.
Using the old boards and handmade brick of the Misch Tobacco Store's smokehouse in Old Salem as his background, Dempsey has brought together a split-reed feather basket from the Charlotte area; a log cabin quilt from Asheville; a classic blue cracked pot from the Raleigh area; and a two-hundred-year-old milk jug from Old Salem. To add to the color contrast he has introduced a bouquet of narcissus and pansies, both of which are historically correct for the Old Salem area.
The hallmark of Essick's work is the incredible amount of detail he manages to include within the frame of his paintings. In "Carolina Heritage" the viewer's focus shifts rapidly from the soft folds and intricate print patterns of the quilt to the newly split staves of the basket, then to the pristine white and velvet nap of the flowers.
In the time it takes to absorb the almost casual coming together of all the elements of the painting, the viewer's eye finally returns to the basket and its bark covered handle which looks so real there is the temptation to reach out and touch the roughness.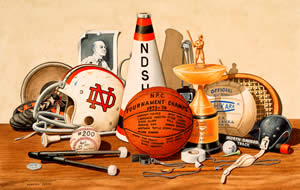 "Forever Knights"
North Davidson Senior High School alumnus, Dempsey Essick, has created an intricately detailed collage of sports artifacts to pay homage to the school's long-time basketball coach and athletic director, Pete Jones.
On viewing the painting the eye immediately goes to the snapshot of Pete Jones who seems to have gathered around him the mementos of a career spent guiding young boys and girls on their road to adulthood. The central grouping includes the North Piedmont Conference Tournament game ball from 1973-74, a state championship baseball trophy, the softball used when the girls team won their 200th victory, and sitting next to a cheerleader's megaphone, a battle scarred football helmet which bears the colored bruises of each of the Knights' conference rivals.
There are two batons, one for twirling and one for the track relay team. The rest of the paraphernalia runs the gamut from a trainer's roll of adhesive tape and a score keeper's pencil to a golf ball, a wrestler's ear protector, a volleyball, a tennis racket, a discus, soccer shoes and the sticks to beat a big bass drum.
The sum total of Pete Jones' life as the leader of the Knights is not to be found in the artifacts of the various sports or the columns of numbers indicating wins and losses. Regardless of the score on any particular day or in any particular game, the mark of the man is in his impact on the young men and women who have learned to win with grace and lose with dignity. The hundreds of students who have learned the discipline of persistence, how to set a goal and attain it whether it be in the athletic arena or the arena of life, is the true legacy of Pete Jones. On that ultimate scorecard all the Knights are forever winners.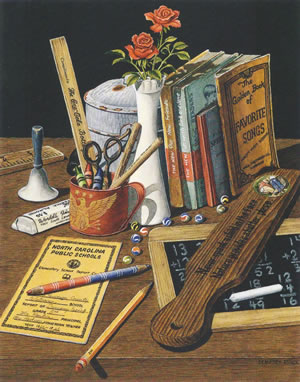 "School Memories"
Artist Dempsey Essick, educated in the Davidson County Schools, created this original piece of art used on the colorful dust cover of the book that describes the history of the first 150 years of public education in Davidson County.
Did you notice that the report card featured in the painting is Dempsey's?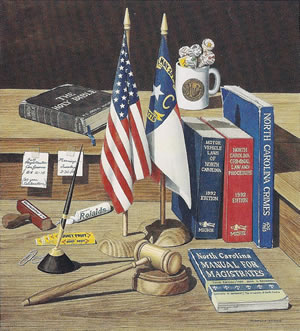 "The Magistrate"
To celebrate the twentieth anniversary of the founding of the North Carolina Magistrates Association, Dempsey Essick has created a special release available only to the Magistrates.
Dempsey's portrayal of the corner of a typical Magistrates desk captures the essence of the office that has been called, "The front line of the courts." The viewer first notices the national and state flags in close proximity to a worn Bible, both symbols of truth and duty. Then the eye discerns a graphically pleasing red, white and blue color bias in the reference volumes with their tattered covers and paperclip index markers. A coffee cup filled with lollipops along with chewing gum and antacid tablets complete the picture, leaving a lasting impression of a very human and dedicated person in service to the citizens of North Carolina.
When he was first approached about doing a painting to commemorate twenty years of the North Carolina Magistrates Association, Dempsey was in a quandary. The problem was to put something in the painting that would be representative of each of the hundreds of Magistrates scattered through a hundred counties from the Blue Ridge Mountains to the Outer Banks.
His choice of a work station with reference books and personal items that would be familiar to every Magistrate was the ideal solution.
"The Magistrate" illustrates Dempsey's devotion to detail as well as his unexcelled draftsmanship and control of color. The realism in every line, from the wood grain of the desk to the ink smudges on the rubber stamp, are hallmarks of an Essick painting.