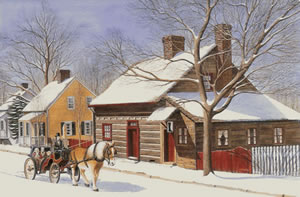 "First Tracks"
Dempsey Essick's latest painting is special in more ways than one. As a special release the limited edition print will help support First Night '93, the New Year's Eve Festival which provides young and old the opportunity to celebrate without the association of alcohol and drugs. As a symbol of our path through life, "First Tracks" illustrates the trail we leave behind and indicates a direction for the future. As a work of art, "First Tracks" is a significant addition to the artistic documentation of. the two hundred year old Moravian town of Old Salem in Winston-Salem, North Carolina.
Essick has captured a nostalgic scene showing Dr. Eddie Hill and his family on an early morning outing just after a fresh snowfall. The carriage is passing in front of three of the oldest dwellings on historic Salt Street.
The first house was built by the hatmaker, Solomon Lick, in 1822. The middle house was built in 1816 by John Hagen, a tailor and father of Francis Hagen, the musician and composer. The log dwelling was erected in 1787 by Martin Lick, one of the founding brothers of the original village. The famed poet, John Henry Boner, was born in this house in 1845 and makes numerous references in his poetry to the days he spent growing up here.
As the viewer is drawn deeper into the picture, details of Essick's meticulous brushwork become apparent. The grain of the logs in the Boner house, the fine detailing of the trim on the carriage, the subtle play of light and shadow on the snow, all combine to render a scene so realistic that one can almost hear the muffled sound of the horses hoofs on the snow covered street and feel the nip of winter in the air.
The overall effect of "First Tracks" is to leave the viewer with a feeling of having traveled back to Salt Street in the nineteenth century, perhaps to shop for one of Mr. Lick's hats, or to stroll up the street listening to Francis Hagen playing his Christmas song, "Morning Star," or perhaps to recall the words of one of John Boner's poems celebrating his days along the street where flowers grow.