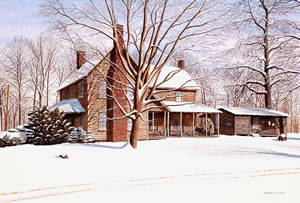 "Good Morning Miss DeLapp"
Alice DeLapp, wearing her distinctive split-bonnet, was so much a part of the 103 year old farm home, where she was born and where she lived for eighty one years, that Dempsey Essick felt compelled to include her in his painting of the DeLapp Home Place - one of the earliest structures in the Reedy Creek Community of Davidson County, North Carolina.
Dempsey's painting evokes a nostalgia for the smell of bread baking in the wood-fired range and the quiet country places and friendly country people that he loves.
The warm quality of the morning sun in contrast with the bold shadows of bare limbs reaching across the snow to embrace the weathered boards of the 1889 dwelling, all serve to capture the essence of farm life as it was in times gone by. The house still stands today and is enjoyed by those traveling US Hwy 150.
Miss Alice DeLapp was a first grade school teacher at Reedy Creek Elementary School who never married but cared for her parents. Working on this project was one of my fondest memories. Miss Alice was a real lady.
Tribute to a Special Lady
Miss Alice DeLapp passed away on January 21 1991, just two days after her 82nd birthday. My life is richer for having known Aunt Alice. She was a beautiful lady with a warm wonderful smile that she bestowed generously on everone she met. She had the serene dignity that comes to those who are at peace with themselves. When I pass her home I still automatically, look to see if she is out in the yard in her sunbonnet, going about her business of attending to her flowers. It is then, when I realize that I can never again turn into her driveway and spend a few moments enjoying her company, that I miss the most.