Dempsey Essick is a self taught, self expressed realist watercolor artist. He is known as the Hummingbird Bird Artist; not only for the hummingbirds he paints but for the hidden hummingbirds he hides in his paintings.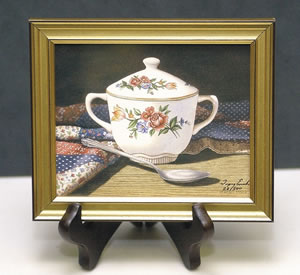 "Tranquility"
Your coffee might come from Brazil or Hawaii. Your tea might be green, black, oolong, or jasmine and likely came from the Orient, but your sugar probably came from the southern United States. In a cafe or restaurant the sugar will likely be served in a smail paper envelope or a large dispenser with a small hole in the top. At home it is so much nicer to set out an elegant sugar bowl in a pattern matching the cups and creamer. If it happens to be the afternoon of an especially busy day you can find a measure of peace and tranquillity with your very own china, perhaps handed down from your mother and grandmother who also needed a bit of peace and tranquillity now and then.
Dempsey Essick's small painting portrays a sugar bowl found in a Statesville, N.C. antique mall by Nancy Lewallen. It was Nancy who also furnished the matching creamer in Dempsey's thumbnail print named "Serenity".
As is Dempsey's habit, he has included a hidden hummingbird image in the painting. This one is located to the left of the left handle of the creamer.
Copyright ©
• www.DempseyEssick.com •
All Rights Reserved.

Last Update: 2/7/2019