Dempsey Essick is a self taught, self expressed realist watercolor artist. He is known as the Hummingbird Bird Artist; not only for the hummingbirds he paints but for the hidden hummingbirds he hides in his paintings.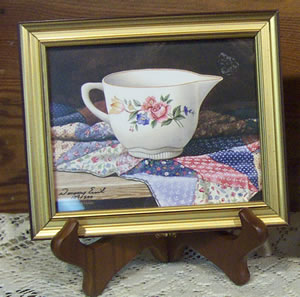 "Serenity"
Cream for your coffee might be dispensed in several ways. It might be poured directly from a waxed cardboard container or shaken in powder form from a small paper envelope. In days past, restaurants provided thick cream in small glass containers. China creamers suggest a degree of civility associated with a quiet afternoon on the veranda with good friends. Enjoying the click and tinkle of real china cups and saucers and the subdued, mind-healing conversation far removed from a sometimes-chaotic world.
The creamer so skillfully portrayed in "Serenity" was found in a Statesville antique mall by friend/customer Nancy Lewallen who recognized the pattern as the same as the cup and saucer in the Thumbnail Print "Peace and Quiet". The creamer is displayed resting on the same Roxie Wofford quilt square used in the other print.
Copyright ©
• www.DempseyEssick.com •
All Rights Reserved.

Last Update: 2/7/2019