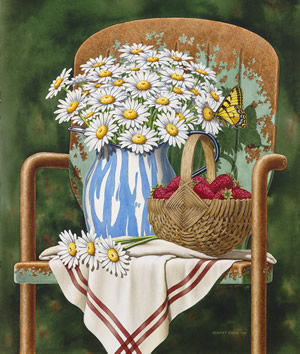 "Picking Daisies"
Dempsey Essick's paintings always have a homey touch to them- he paints things that appeal to the heart. An old porch rocker with the rusty paint sets the scene for his new release entitled "Picking Daisies". A colorful agateware pitcher is enhanced by the hand woven, ribbed melon basket filled with berries in the rendering of a typical Essick spring scene. The long winter has passed and with the advent of spring, strawberries are ripe, daisies are in full bloom and butterflies are gracing the landscape once again bringing with them a note of cheerfulness and brightness to each corner.
"Creating 'Picking Daisies' was a respite from the long, cold winter of 2014, " Essick shared. " I remember that my painting time was disrupted while the power was out for two days but it was wonderful when I could return to work and continue painting the delicate blooms and delectable berries, knowing that both were forthcoming. I am proud to include the melon basket, crafted by Rena Meredith, a gifted basket maker and dear friend. And as always, I have included a rebus type image of a hummingbird hidden in the painting. Look for the bird's eye."
Essick created "Picking Daisies" as a sister piece to an earlier work, "Wait Your Turn". With the same depth, coloration and feel, both pieces include the butterfly from the same family as a well as the same blue agate pattern. Framed to co-ordinate, the pair of prints makes a striking nostalgic wall display.
Spot Light on Rena Meredith

Maker of Baskets
"Yes, Dempsey Essick is and has been my favorite artist since I saw his early works and I am delighted that he has chosen to include my ribbed melon basket in his new painting."
"I began making baskets at Margaret Ripple's little basket house in Arcadia in the early '80's and consider her my mentor. Margaret was such a delightful and special lady and I just loved weaving in her homey building and I have been weaving for fun ever since. I am a charter member of the local Winston-Salem/Arcadia Basketmakers' Guild as well as the North Carolina Basketmakers' Association which was founded in 1985."
"Several years ago we used some logs off of my son's property to build a log cabin beside our home where I display many of my baskets and have my supplies organized there. We have on occasion hosted an instructor from Missouri to teach our guild how to make a variety of white oak baskets."
"I love all types of baskets ranging from the delicate work of Nantuckets, to ribbed egg baskets, to market baskets, etc. I've attempted to make a variety of styles over the years and have looked forward each spring to taking new classes at the annual NCBA Convention. Though now, between babysitting for our four young grandsons, making homemade sourdough rolls for church functions, coordinating our monthly Pickin' & Grinnin' event, and helping my husband with his business—my weaving is limited. The joy still remains though, when I can take some reed, a little time, and some love and create a special basket."
"I appreciate the opportunity Dempsey gives to local folks to share their interests and I am honored to have a small part in one of his paintings. We are fortunate to have him share his talents with our community and beyond."
Dempsey Shares
"I am always amazed how I can see an object and how it can trigger wonderful memories of things that have not come to mind in years. This happened recently when I returned to the old family playground with son John and his family and we came upon an old rusty, metal yard glider."
"I clearly remembered that metal yard furniture from my childhood - sitting on it in the cool of the day eating homemade ice cream and sneaking behind it during a game of hide and seek."
"These memories turned into a mental image and I saw this scene in my mind and then I set it up accordingly."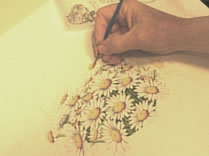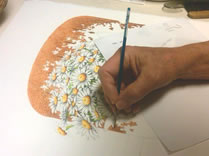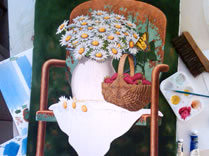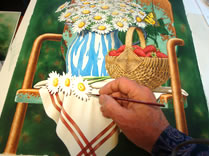 "Picking Daisies" Goes to the Potty
Yes, as part of his usual daily routine, Dempsey takes his art to the bathroom and studies his painting progress in the mirror. The reflection intensifies the detail and "it gives me a different perspective of the painting and helps to visualize the composition better," Dempsey shared. So, does Dempsey take his art work to the John with him? Sure does… and it keeps him regular.