From coneflowers to pansies, Dempsey has never met a flower he didn't like. He has captured the charm of a hollyhock in a fruit jar and a daffodil in an old coffee can as well as a field of daylilies with a bluebird flying over. His Rose of Sharon is so life like you want to touch it and the hydrangea has become an Essick hallmark.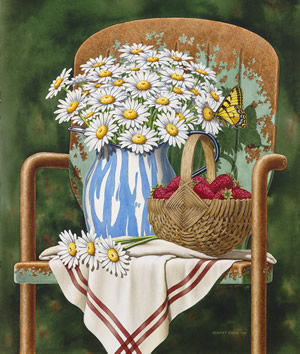 "Picking Daisies"
Dempsey Essick's paintings always have a homey touch to them- he paints things that appeal to the heart. An old porch rocker with the rusty paint sets the scene for his new release entitled "Picking Daisies". A colorful agateware pitcher is enhanced by the hand woven, ribbed melon basket filled with berries in the rendering of a typical Essick spring scene. The long winter has passed and with the advent of spring, strawberries are ripe, daisies are in full bloom and butterflies are gracing the landscape once again bringing with them a note of cheerfulness and brightness to each corner.
"Creating 'Picking Daisies' was a respite from the long, cold winter of 2014, " Essick shared. " I remember that my painting time was disrupted while the power was out for two days but it was wonderful when I could return to work and continue painting the delicate blooms and delectable berries, knowing that both were forthcoming. I am proud to include the melon basket, crafted by Rena Meredith, a gifted basket maker and dear friend. And as always, I have included a rebus type image of a hummingbird hidden in the painting. Look for the bird's eye."
Essick created "Picking Daisies" as a sister piece to an earlier work, "Wait Your Turn". With the same depth, coloration and feel, both pieces include the butterfly from the same family as a well as the same blue agate pattern. Framed to co-ordinate, the pair of prints makes a striking nostalgic wall display.
Spot Light on Rena Meredith

Maker of Baskets
"Yes, Dempsey Essick is and has been my favorite artist since I saw his early works and I am delighted that he has chosen to include my ribbed melon basket in his new painting."
"I began making baskets at Margaret Ripple's little basket house in Arcadia in the early '80's and consider her my mentor. Margaret was such a delightful and special lady and I just loved weaving in her homey building and I have been weaving for fun ever since. I am a charter member of the local Winston-Salem/Arcadia Basketmakers' Guild as well as the North Carolina Basketmakers' Association which was founded in 1985."
"Several years ago we used some logs off of my son's property to build a log cabin beside our home where I display many of my baskets and have my supplies organized there. We have on occasion hosted an instructor from Missouri to teach our guild how to make a variety of white oak baskets."
"I love all types of baskets ranging from the delicate work of Nantuckets, to ribbed egg baskets, to market baskets, etc. I've attempted to make a variety of styles over the years and have looked forward each spring to taking new classes at the annual NCBA Convention. Though now, between babysitting for our four young grandsons, making homemade sourdough rolls for church functions, coordinating our monthly Pickin' & Grinnin' event, and helping my husband with his business—my weaving is limited. The joy still remains though, when I can take some reed, a little time, and some love and create a special basket."
"I appreciate the opportunity Dempsey gives to local folks to share their interests and I am honored to have a small part in one of his paintings. We are fortunate to have him share his talents with our community and beyond."
Dempsey Shares
"I am always amazed how I can see an object and how it can trigger wonderful memories of things that have not come to mind in years. This happened recently when I returned to the old family playground with son John and his family and we came upon an old rusty, metal yard glider."
"I clearly remembered that metal yard furniture from my childhood - sitting on it in the cool of the day eating homemade ice cream and sneaking behind it during a game of hide and seek."
"These memories turned into a mental image and I saw this scene in my mind and then I set it up accordingly."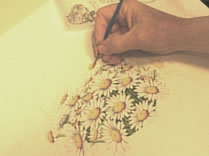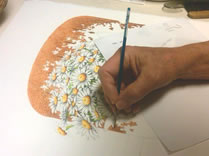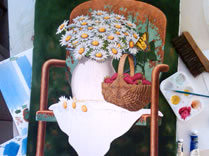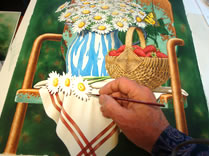 "Picking Daisies" Goes to the Potty
Yes, as part of his usual daily routine, Dempsey takes his art to the bathroom and studies his painting progress in the mirror. The reflection intensifies the detail and "it gives me a different perspective of the painting and helps to visualize the composition better," Dempsey shared. So, does Dempsey take his art work to the John with him? Sure does… and it keeps him regular.

Because of the agateware, Wait Your Turn, Pump House Shadows, and Picking Daisies together make the perfect composition.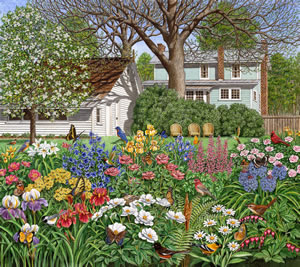 "Mary's Secret Garden"
Mary Elliott's home at 425 Lexington Avenue is the oldest in Thomasville, NC. From the street, the old house looks pretty much like others in the neighborhood but, if you are fortunate enough to be invited into the back yard you should be prepared for Thomasville's Best Kept Secret. Mary's back yard is huge and, with the exception of a garage, a tool shed, workshop and a pile of dried leaves, used for mulch, she has committed the entire space to growing the most colorful flowers. During the spring and summer (though Mary's Garden is in bloom year round) the space is a riot of color and sound from the hundreds of songbirds who find a blissful refuge among the flowering plants. Widowed at an early age, Mary has devoted her life to her flowers and they, in turn, have comforted her and brought her much joy.
Butterflies and songbirds find the site irresistible. At any given time the visitor is likely to see hummingbirds, goldfinches, robins, cardinals, chickadees, and finches, even an occasional titmouse or any one of the dozens of beautiful birds common to piedmont North Carolina. And as his custom, Dempsey has included a rebus image of a hummingbird hidden in the painting.
Looking across the plots of colorful flowers to the peaceful invitation of the lawn chairs, Dempsey has captured the natural beauty of a glorious mix of colors accented by the ever present song birds that add more color and sound to a scene out of a fairy tale. One can only imagine the serenity of a perfect summer afternoon, sitting in the shade of that big tree sipping a glass of iced tea while being entertained by the birds and butterflies. Life can be good.
California show includes Essick Art
Davidson County artist Dempsey Essick is among the National Watercolor Society's members whose work was juried into the Spring 2014 Exhibition.
Out of the 550 entries, Essick's original painting titles "Mary's Secret Garden" was one of 80 selected to hang in the NWS Gallery for the two-month-long show in San Pedro, California. The exhibition represents almost every form of water media painted on every type of paper from rag to Yupo.
The National Watercolor Society, an elite 94-year-old organization, presents the best of water media paintings, representing a wide range of directions and techniques, from experimental to traditional. Essick has held full signature membership since 1999.
Dempsey Shares
"I receive hundreds of emails with painting suggestions but somehow the one from Mary Elliott caught my eye," Dempsey shared "and I think it was divine intervention."
"As I studied the photos Mary had attached of her house and flower garden I was instantly drawn to them. I could tell there was something special about her home place. I love old architecture, florals and birds and a painting idea began to form in my mind. Real art comes from the heart and my heart was touched and I fell in love with the place before I ever went there."
"It was a wonderful experience meeting and getting to know Mary Elliott. I was in awe of her great knowledge of gardening. She loves nature and nature loves her- you can tell this by the way the plants respond to her loving touch. Even though Mary is not in the painting, you can see her finger prints all over it. "
From the Garden with Mary Elliott
God has blessed me tremendously! He gave me a great love for plants and He gave me a great husband who taught me more about gardening and life in general. He was a wonderful man and I cherish every minute we had together.
My Daddy gardened as far back as I can remember. He raised a vegetable garden every year and he grew flowers as well. The last year he lived we made a new bed with peonies and Dutch iris. Unfortunately he did not live to see them bloom. Daddy taught me about gardening and instilled in me a love for gardening.
I also had neighbors when I was young that loved to garden and they were an inspiration as well. I have plants that were shared with me maybe 40 years ago and I cherish the memories of the people they represent.
Even though I have a degree in horticulture from NCSU, my greatest knowledge was acquired through experience. Mulching with leaves and liming are the two most important things I do. I use oak leaves because they do not break down as fast. Mulching with leaves serves several purposes. It keeps the weeds down, moisture in and draws the earthworms that help break down the leaves. As the worms work they loosen the soil and add organic matter. As a result you will need less fertilizer each year. Most flowers and vegetables need to be in a pH range of 6-7. All nutrients are available in that range. If the pH goes below 6 or above 7, the nutrients start to become less available. As a result, plants can suffer.
I do not irrigate. Once the leaves are put out most of my work is done. When I put new plants in the ground I fertilize them once and water them and then put them in God's hands. Very seldom do I ever go back and water again. I rarely lose plants.
When thinking about planting shrubs, ALWAYS look at the area and determine the maximum size you want the plant to be at maturity. Then look at various shrubs and pick what will not exceed the maximum size you want. I really do not like to see any shrub pruned into oblivion. I like to see shrubs grow in their natural shape and form. They are so much more striking when they are blooming and you notice the beautiful flowers rather than the shrub that has been cut like a box or in a circular form with most of the flowers eliminated. By picking the right shrub for the right spot, you eliminate the need to prune, thus cutting down on labor in the yard. It is a win win for both you and the plants.
Instead of planting a shrub here and there, consider making large beds of shrubs or flowers. That way you are mowing around a large area instead of individual plants. That saves a lot of time when mowing and eliminates trimming around multiple plants.
I like flowers in bloom all year round; therefore I plant so that I will have something in bloom all four seasons. It encourages one to get out and walk around to see what is in bloom. I also like to plant flowers that have a large bloom so I can see them from inside the house.
I am really a lazy gardener and am always looking for ways to make my job easier. Gardening is really fun and is a great stress reducer. I can go to my garden and start working and forget about everything else. It is wonderful to stand back and see what I have been able to do and I find it very interesting to see what others do in their garden spots as well. The best part for me comes when I am able to share my garden with others and spend hours talking with them about gardening. The world seems to stop and nothing else matters when I am sharing in my "secret garden."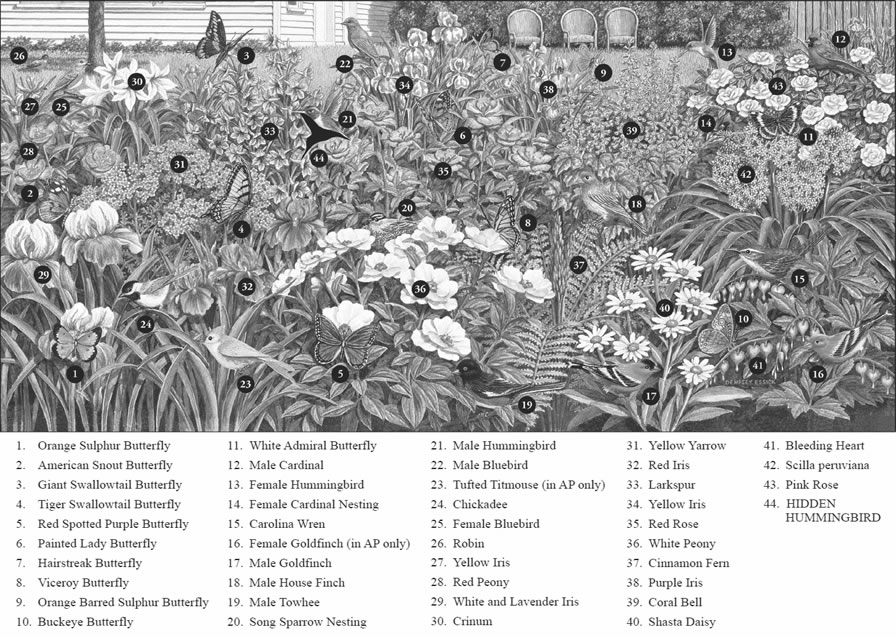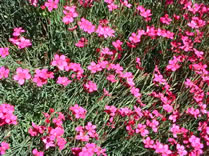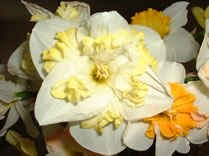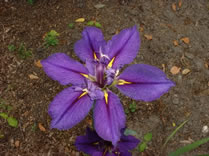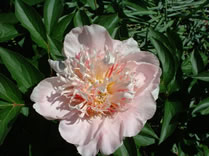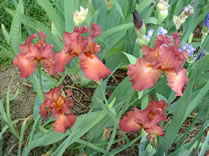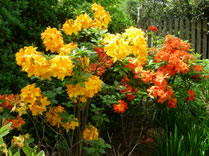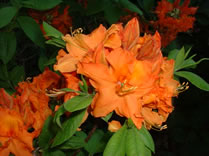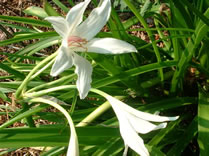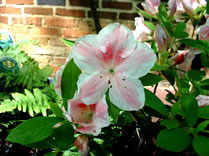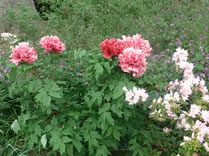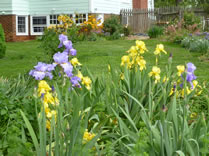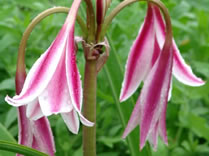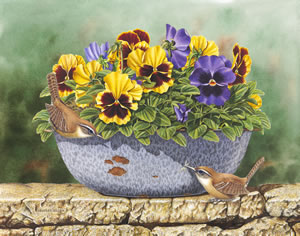 "Spring Fling"

When two wrens take a fancy to each other
Spring is a busy time in the world of birds. It is a time to build nests, lay eggs and raise the young. It is an especially busy time for the male Carolina Wren who may build three or four stick and twig nests in shrubs or mail boxes or a dish pan garden of pansies like the one shown here, before his mate decides on the one that will be home to her family. Perhaps, in this case, she wants her hatchlings first view of the world they will live in to be filled with the color and beauty of flowers in full bloom.
As he does on many of his paintings, Dempsey created life sized, clay sculptures of the birds to use as props during the process of creating the painting. Since it is impossible to convince the birds themselves to hold a pose, Dempsey molds, by hand, life size models of the birds in the pose he plans to use in the painting. The sculptured models are very lifelike and contribute greatly to the reality and overall beauty of the finished painting.
"The birds, flowers, and old dish pan are all subjects that I love to paint." Dempsey shared. "As always I have added a hidden hummingbird and this time it is a bit easier to locate. Try looking in the rock wall."
Shelley Shares
"Dempsey has played with clay for as long as I have known him. When we were dating he would show up at the door all looking nice and smelling good and there would be that wad of clay in his shirt pocket. Being naughty he would make figurines and say they would be us one day. I find it interesting how Dempsey molds an image without ever looking down to see what he is doing. Recently he made clay tractors for Elim and Olin to use when tipping tractors as seen in the Cars movie. He would love to release a sculpture one day and I am sure it would be that of a hummingbird."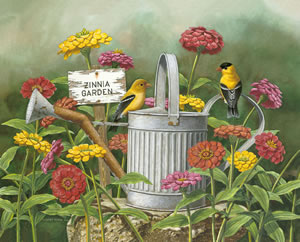 "Zinnia Garden"
Beth Leonard's greenhouse is the 'go to' spot in Welcome. Beth is best known for bedding plants, geraniums and ferns but she offers so much more. She mixes her own potting soil, creates funeral baskets, and her succulent dish gardens are a must have. Ninety eight percent of what Beth offers she grows herself. She began her business years ago so she could be home with her children. Since then she has expanded from one green house to three and, through word of mouth advertising, she has become the 'go to' plant place in Northern Davidson County.
Dempsey Essick has created a beautiful painting featuring an assortment of Beth's zinnias with an old 1940's watering can (a hand me down from Beth's mom), a faded garden sign, and two visiting goldfinches.
Dempsey is also known for his inclusion of a hidden rebus type hummingbird in his paintings. The one in "Zinnia Garden" is located in the lower right quadrant but you must look closely to find it.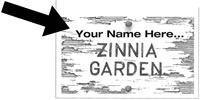 You can make Beth's garden your very own, by having Dempsey add your name –at no charge– to the plant stake in the print. What a neat idea!
Dempsey Shares
"One of the places I love to visit is Beth Leonard's Greenhouse here in the heart of Welcome. Beth is an artist at growing plants and creating beautiful potted arrangements. She has helped beautify the outside of my shop for years."
"When I decided on doing a floral painting, Beth's zinnias and watering can were the perfect compliment. I love zinnias and their colors are so strong that they seem to glow in the warm sunlight. Goldfinches loves zinnias as well as they eat the seeds from the heart of the flower. They made the perfect match for the zinnias with their bright colors."
"Zinnia Garden is a simple painting that I hope will bring back many memories of warm summer days with frolicking birds playing in the garden." "I think this painting calls for a sister piece- perhaps a similar setting in the fall. We will just have to wait and see."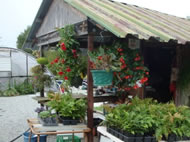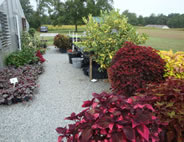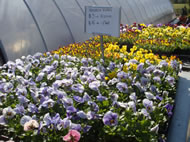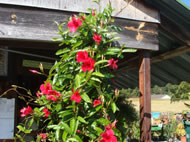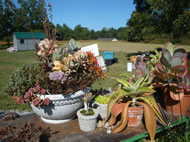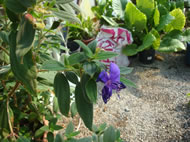 Visit Beth's Greenhouse at 3629 Leonard Road in Lexington or call 336-731-7317.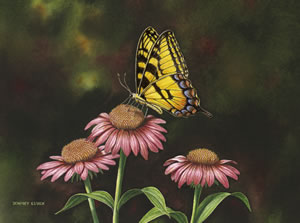 "Picking Coneflowers"
Butterflies teach us about persistence. In spite of being almost lighter than air they still survive wind and rain and continue to decorate our lives. It is the struggle to break out of its cocoon that gives the butterfly its strength. If you should find a butterfly in the process of breaking free and, however well meaning, you help by breaking some of the cocoon's shell away, the butterfly will be too weak to fly and will expire. It is the struggle that gives it strength. Perhaps this is a lesson for us all.
The artist, Dempsey Essick, has masterfully portrayed a beautiful Tiger Swallowtail butterfly perched on a daisy-like coneflower, which is in full bloom. The monarch will sip a small amount of nectar then move on to another blossom and then another and might possibly alight on the back of your hand. If so you can count yourself blessed.
Do take time to search for the hidden hummingbird in this painting.
Dempsey Shares
"One of my favorite butterflies is the Tiger Swallowtail. They are probably the most recognized butterfiy in the eastern United States. Their quiet beauty is unmatched and I enjoy them in my back yard as well as when I am fly fishing on Wilson Creek in the beautiful North Carolina mountains"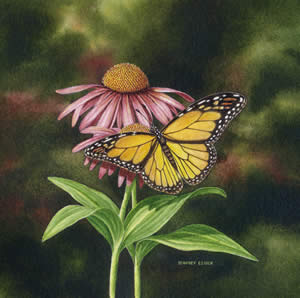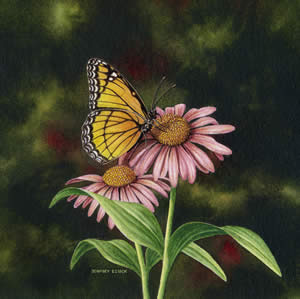 $55 for the pair
"Coneflower of Choice: A Pair of Prints"
It is one of nature's acknowledged miracles. Each spring caterpillars all across the globe crawl out on limbs or onto rafters and attach themselves prior to encasing their bodies in an impervious coating to become a cocoon.
After many weeks with no food or water the caterpillar, now transformed into a beautiful butterfly, will crack the cocoon open and unfold its colorful wings and fly off in search of nectar from the nearest flowers.
As they flit from flower to flower the small, lightweight creatures delight young and old alike. Some people even believe that butterflies are the embodiment of angels who have come to comfort the sick and encourage the bereaved. Perhaps they are right.
Butterflies come in many colors and sizes. There are blue, yellow, green, and all shades of brown but the most common and the most recognizable is the beautiful black and yellow Monarch.
When a Monarch butterfly flutters across your field of vision you can't help yourself, you just have to stop whatever you're doing and watch.
Dempsey Essick's painting has captured all the color and wonder of the broad winged flyer at the moment of alighting on a beautiful coneflower. Everyone has seen a similar sight in their own garden or on the plants around their house. It is always a magic moment. The nice thing about Dempsey's painting is that it can be enjoyed year round, even when the snow flies.
As is the artist's custom, a rebus type image of a hummingbird is included in each print.
Enjoy your search for the hidden hummingbirds.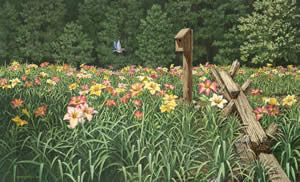 "Daylily Days"
One of the most frequently asked questions of Dempsey Essick, or any other artist, is, "How do you find the subjects for your paintings?" The answer is that there is no answer. Inspiration comes from likely and unlikely places. The artist is always alert for that certain view, or arrangement of objects, that clicks in his imagination. And when it does he usually cannot rest until he has committed the scene to a final painting.
For "Daylily Days" it all started when Ruby Potts, from the small town of Advance in next-door Davie County, attended a seniors meeting at Elbaville UMC in Advance, NC where Dempsey was speaking on his favorite subject, bluebirds. Ruby showed Dempsey a photograph of her lily field. Something about the sheer profusion of blooms and the variety of colors inspired Dempsey. He asked Ruby to let him know when the field was in full bloom.
When he visited Glenn and Ruby Potts home for the first time, Dempsey was hooked. In his own words, "The first time I walked into their back yard it was like a picture you would see in a magazine. There were flowers, birdhouses and bird feeders at every turn. An old, one-room, log schoolhouse that Glenn had moved to the site dominated the scene. When I saw the lily field, next to the schoolhouse, the painting jelled in my mind. This painting consists of three simple components, the lily field, the bluebird and box, and the very old rail fence. I thought of the bluebird as King of the Field."
Dempsey's rendering of the scene reflects his love of nature as well as his enormous skill. He has captured all the color as well as the feel of a beautiful scene. The viewer can almost feel the breeze as well as hear the rustle of the long, green, leaves of the lilies. He has captured the soft warmth of summer on the tip of his brush and has conveyed it to all his viewers.
"There is no less than one million brushstrokes in this painting. Each piece of grass, and there are thousands, required 3-6 brushstrokes to create the three dimensional look and form the necessary shadows.", says Dempsey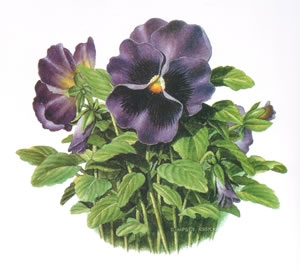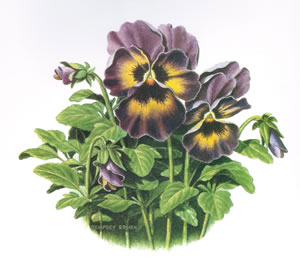 $55 for the pair
"Pansy Faces: A Pair of Prints"
Pansies exist to be pretty. In all their various combinations of color, their appeal is their lifeblood. Pansy lovers willingly replant each spring just so they can be cheered each time they pass by a planter or flower bed.
For the artist, capturing the richness of the colors as well as blending of dark to light can be extremely difficult but Dempsey has mastered it as seen here in the pair of prints. His blossoms are so true to life that viewers sometimes mistake them for dried and pressed flowers.
Dempsey usually has pansies growing by the doorway to his shop and frequently includes them in his masterful paintings. Best of all Dempsey's pansies do not fade at summer's end but can be enjoyed even as the snow flies.
Note: This pair is a perfect accent to "Salem Bouquet", "Cled's Crock", and "Carolina Heritage".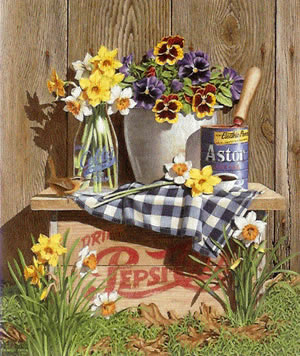 "Cled's Crock"
Cled Frank lives in southern Davidson County, North Carolina on the farm where he was born over a hundred years ago. Cled grew up in a simpler time when there were no computers, no television or telephones or even radio. It was a time when he would go with his dad on the fourteen mile round trip to sell produce in Lexington. They would leave early and carry feed for the horse and when they'd get back home it would be dark.
The young reporters who came to write stories about Cled on his 100th birthday could not really grasp what it was like. No one can. But Dempsey Essick can come close because Dempsey has always been fascinated with older people. To Dempsey, older folks are living history. He knows they have stories to tell and he enjoys listening. Frequently, their stories inspire him to do a painting that touches the life and times of the centenarian.
Cled and Dempsey hit it off right away. Dempsey was interested in the accumulated bric-a-brack that Cled had allowed to collect over the years. Some of it stored in the old kitchen building that still stands out behind a newer house where Cled now lives. Dempsey was especially intrigued by a grey stoneware crock that was used in the old days to keep various foods such as milk or poultry, cool in the springhouse. This was in the days before electricity and refrigerators.
For his painting, Dempsey arranged some of his favorite spring flowers, pansies and daffodils, in and around the old crock. Then he assembled a few complimentary elements, a Coble milk bottle because Cled once worked at Coble, and an old coffee can found in a shed on the property.
Dempsey's faultless depiction of the old wood siding is no more than collectors of his art have come to expect. Other touches, such as the casually folded tea towel and the perfect flowers are like an Essick signature. The delightful Carolina Wren is not only amusing but reflects the artist's love of songbirds. "Cled's Crock" fits right in with past Essick work. It is true to the artist's love of the rural settings of his homeland and reflects the attainment of the top level of American Artists.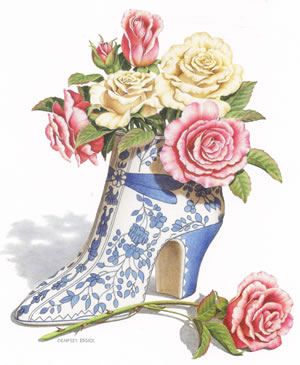 "Enjoy the Roses II"
Dempsey Essick's first "Enjoy the Roses" miniature has proven to be one of the most popular small prints in the gallery. One of the most persistent requests is for a matching print to hang with the first as a matched set. "Enjoy the Roses II" is the answer to those requests.
In an unusual ceramic vase shaped like a lady's high heel shoe, Dempsey has arranged a few yellow and pink rose blossoms which are suitably enhanced by the blue decorative design on the vase. Sharp eyed viewers will spot a small hummingbird shape worked into the design.
Dempsey is such a masterful painter of roses on visitor to the gallery was overheard saying that real roses would be jealous because they must drop their petals while Dempsey's go on forever beautiful.
Dempsey hopes you "Enjoy the Roses II" too.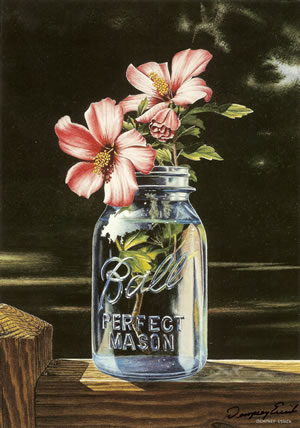 "Rose of Sharon"
Striking in its simplicity, Dempsey Essick's rendering of a simple bouquet of Rose of Sharon Blossoms, displayed in an unadorned canning jar, literally glows in the first light of a summer morning.
The simple diagonal composition which places the subject flowers between a realistically portrayed post and rail in the lower left and a light patch of early morning sky in the upper right of the frame, directs the viewer's eye to the center and the masterfully executed subject.
That the flowers in "Rose of Sharon" are so realistic comes as no surprise since Dempsey Essick is well known for his paintings of flowers. It is the container, the Mason jar, that immediately captures the eye of the viewer. Clear glass is the supreme test of an artist's skill and Dempsey has demonstrated here that he is equal to the challenge.
The clarity of the glass with all the reflections and highlights from the raised lettering and screw-top threads, to the mottled shadow of light passing through the glass and water, is astonishing to viewers who sometimes get closer to assure that, somehow, a photograph has not been inserted into the scene.
"Rose of Sharon" is a benchmark painting for Dempsey, pointing the way to simpler subjects of exceptional beauty and exciting detail.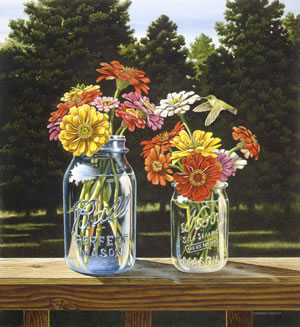 "Zinnias a Sunnin'"
This original painting has appeared in both our wall and desk calendar and has gained in popularity.
Hopefully it will be released as a mid size print in the near future.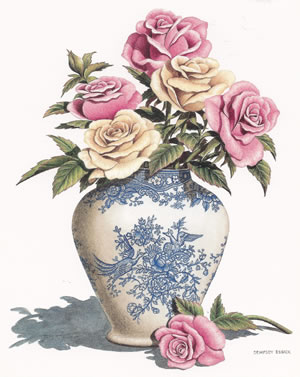 "Enjoy the Roses"
Artists often do miniature studies of objects that might be included in a larger work and sometimes they produce a miniature to challenge themselves, or perhaps just for fun.
"Enjoy the Roses" is both a challenge and a fun piece. Roses are the most difficult of flowers to paint convincingly and Dempsey Essick is rightfully proud of his roses.
On close examination, the discerning viewer will also appreciate the exceedingly fine decorative work and the eggshell white glaze on the delftware vase.
Taken as a whole, it is like having a permanent bouquet of flowers to brighten every day. Enjoy the Roses!
The complement to "Enjoy the Roses" is "Enjoy the Roses II".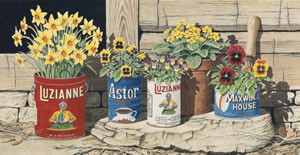 "Salem Bouquet"
For years I have enjoyed visiting Old Salem. I like to soak up the atmosphere of the old buildings and the people dressed as they were in colonial times. I can imagine what it was like in the seventeen and eighteen hundreds. When I decided to do a painting in tribute to the old Moravian village I wanted to do something different, something that was not just a duplicate of what others had done.
The more I looked around the village the more I was drawn to Salt Street and the log house where John Henry Boner, the poet was born. It was when I noticed the community flowerbeds across the street from Boner's house and saw references to flowers grown there in his poetry that I decided on the still life with flowers.
I was determined that the flowers would be authentic varieties that were grown in Salem when Boner lived in the house and, thanks to the meticulous record keeping by early Moravians, I was able to confirm that primrose, Johnny-jump-ups, pansies and narcissus all were grown there in the late eighteen hundreds.
Most of you remember the series of paintings I did a few years back which involved one of Aunt Sallie Parnell's hand woven rugs and homes of Alice DeLapp and Irena McCormick. Well, as it happened each of those special ladies gave me an old antique coffee can and I decided to use those cans and one terracotta flower pot I found under the Boner back porch, to hold the flowers for "Salem Bouquet".
In looking around for a setting I found that the morning sun was very strong across the front of the old Boner smokehouse which is behind the dwelling. It was in the entrance to the smokehouse that I placed the flowers as you see them. My aim was to have the coffee cans lend an informal look as well as a color accent along with the flower blossoms. The whole arrangement is standing out in contrast against the weathered grey logs and dun colored foundation stones.
When a group of farseeing movers and shakers got together in Winston-Salem just after the second World War to form the Old Salem Restoration Committee most people paid very little attention. Today, after untold hours of volunteer work, research, fund raining, planning and rezoning, the present restored village is a flower in the lapel of Winston-Salem and indeed the whole state. "Salem Bouquet" is my thank you to all those who made Old Salem possible in the beginning and continue to make it possible today.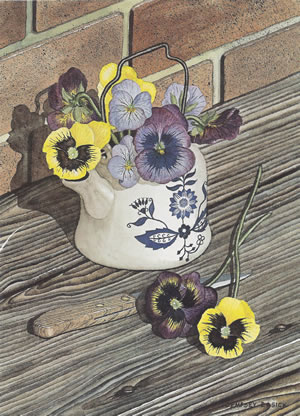 "First Cuttings"
Pansies with their veined, delicate petals are hard forerunners of spring. The first pansies of the year caught Dempsey's eye and with this brush he captured their rich texture.
The flowers cut from the back yard bed rest in an antique, two cup, ceramic tea that belonged to his mom. The pot sits on a little wooden stool outside the back door of the house.
Dempsey Shares a Tip
I love pansies and always have. If you have never grown pansies from seed you must try it. The flowers are completely different from the plants you buy.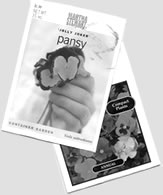 For a longer blooming season pansies from seed should be planted in a cool place and not permitted to dry out from the hot sun.
They can be planted as early in March as the ground will allow. The plants will continue to flower well into June or later if the dead flower heads are picked off.
Pansies are best planted in late winter even though they are often planted in late fall.