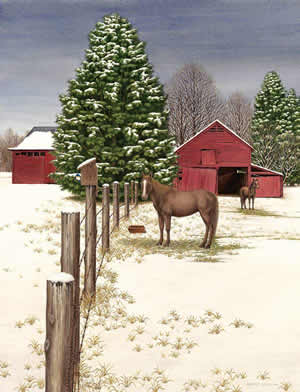 "Woodrow's Barn"
Snow in the Piedmont region of North Carolina has become a rare event. That's why, when it does snow, I get my camera and hop into my Trailblazer with heated seats and head out to tour the local scenes that I have known all my life.
On March 2, 2009 we were gifted with a beautiful snow followed by a day of bright sunshine and I spent the entire day driving the country roads. I had a ball. A magic moment came when I drove down Craver Road and saw the old Woodrow Zimmerman Barn. The sight of the old red barn and the huge evergreen, with snow clinging to all its branches, and the friendly horses just captured my imagination. I knew right then that I had to save this special moment in a painting.
The horses that live in the old barn now belong to Dean Carter but the original occupants were the cows in the Zimmerman dairy herd. For many years Woodrow along with his father, Julian, and his brother, Russell, milked the cows, bottled the milk and delivered fresh milk daily to a list of customers throughout the Welcome and Arcadia communities and into the city of Lexington including the Coble Dairy.
Brother Russell was also a school teacher but Woodrow never wanted to be anything but a farmer. He once said, "I just enjoy seeing the soil tilled. I would rather plow than eat when I'm hungry."
I not only wanted to capture the serene beauty of the old barn in the snow but I also wanted to pay tribute to men like Julian and Russell and Woodrow who were the same kind of hard working, self reliant men who took up muskets and fought with Washington in 1776 to win our country's independence.
Pay close attention to the many details of the painting beginning with inside the barn. Secondly, since bluebirds do not migrate for the winter they make use of their bird boxes for warmth during the cold months. Look closely and you will see a bluebird perched outside his bird house. You will also enjoy looking as well for the hidden hummingbird in the painting.
Jeff Zimmerman Reflects
My Uncle Woodrow was always happy and always had time to talk. Always a farmer, he was never in a hurry and still managed to get everything done. He and his wife Mildred were always together and enjoyed the wealth of the farm, land and produce as his dad had many years before. Woodrow, along with brother Russell and nephew Wade, continued to farm the family land and enjoy their labors of love. The third brother Millis moved to Burlington after college and started Zimmerman Lumber Company along with his wife, the late Bertha Snyder.
Having no kids of their own, Woodrow and Mildred (Craver) loved their many nieces, nephews, great nieces, great nephews and great greats. Many were around the house from time to time helping with the farm chores. Uncle Woodrow always jumped at the chance to employ the local teenage boys in the neighborhood to help with the many chores of farm life.
Always jolly, his belly jiggled as he was easily humored by a good laugh. Mid mornings, Woodrow could always be found at the local Link's Fertilizer Store drinking a soft drink, eating his snack of the day and catching up on the over-night news. Many times I was in tow enjoying the same. My grandfather Russell, a teacher, coach and Principal at Wallburg Elementary School for 44 years and County Commissioner for years always joined in the farming chores of the Zimmerman Family land with his wife Inas (Kimel). Though the land was divided between the two brothers remaining at home, you would never know as they always worked together along with my dad Wade to complete the chores.
For myself, I grew up helping everyone along with my sister Lucinda, under the guidance of my mom Jane (Anderson) and my dad Wade. Though I complained many, many times per day about the difficult work on the farms of Russell and Woodrow, it never killed me but only made me a stronger more diversified person. My wife Cindy and I are very thankful that our kids, Danielle and Ryan, were able to be a part of the two family farms as they grew up and enjoyed the many days of love with Woodrow and Mildred. For a refreshing drink, Ryan and Danielle both vividly recall standing in Woodrow's kitchen while helping Mildred make homemade Chocolate Milk using the original "Zimmerman Dairy" recipe that Woodrow delivered house-to-house in Lexington for many years before milk became readily available in the local country grocery stores. This original recipe has just been published for the first time in a cook book by Mt. Olivet United Methodist Church, where Woodrow and Mildred were life long members.
Woodrow's Barn was always a home for many cows and their feed. I've placed many bales of hay in this old red barn that was built by Uncle Woodrow's Grandfather, Eli Zimmerman, in the late 1800's. As it was added on to over the years to accommodate the growing farm and dairy operation, the logs were covered with traditional lap siding to help preserve the structure. The barns and surrounding building have been unchanged as long as I can remember. The only change was the removal of the old washhouse/kitchen that was part of Woodrow's old home place.
My sister, Lucinda Black, along with our mom Jane and I now lease the two farms to maintain their viability and preserve the family farm land. While growing up I never recall horses being in Woodrow's Barn and it is a welcomed sight to see Woodrow's Barn being enjoyed by God's creatures and especially in God's beautiful snow fall. Our family hopes you enjoy this painting as our family history becomes part of your family.
Jeff and wife Cindy live on Dr. Zimmerman Rd in Lexington, NC