Dempsey Essick is a self taught, self expressed realist watercolor artist. He is known as the Hummingbird Bird Artist; not only for the hummingbirds he paints but for the hidden hummingbirds he hides in his paintings.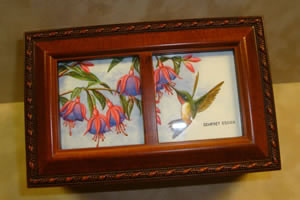 "Window Box" Music Box
Any nature lover would be thrilled to see their hummer sipping nectar from the fushia plant hanging outside their kitchen window and that is the impression that Dempsey Essick gives you in this pinkie print entitled "The Window Box". The small limited edition print is housed in a double image music box that gives the appearance of looking through a window. So precious!
$40.00
Copyright ©
• www.DempseyEssick.com •
All Rights Reserved.

Last Update: 2/7/2019