Dempsey Essick is a self taught, self expressed realist watercolor artist. He is known as the Hummingbird Bird Artist; not only for the hummingbirds he paints but for the hidden hummingbirds he hides in his paintings.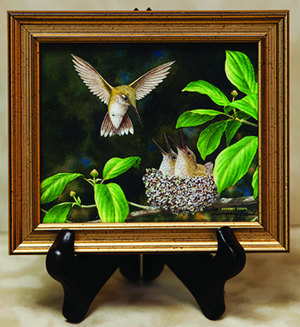 "Whose Turn Is It?"
Does a mom know the difference in two outwardly identical offspring? Of course she does. And each will get their proper portion of any juicy tidbits Mom brings to the nest and each will grow up and raise their own little feathered bundles of joy.
"Whose Turn Is It" is a sister piece to Dempsey Essick's "Hummer a' Nesting" which featured the mother hummingbird on the nest. In progression he has now captured the babies eagerly awaiting a little nectar or delectable insect. As always there is a hidden hummer and this time you will find it located in the nest.
Gift Boxed with easel $25.00
Copyright ©
• www.DempseyEssick.com •
All Rights Reserved.

Last Update: 2/7/2019