Dempsey Essick is a self taught, self expressed realist watercolor artist. He is known as the Hummingbird Bird Artist; not only for the hummingbirds he paints but for the hidden hummingbirds he hides in his paintings.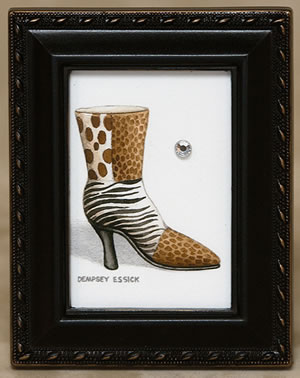 "Wendy's Boot"
A Touch of Glamour. Perfect to sit on your desk or hang on your bathroom mirror is Dempsey's pinkie painting of an animal print boot which will add a touch of glamour wherever it's placed.
Framed size: 3" x 2"
Boxed $12.00
Copyright ©
• www.DempseyEssick.com •
All Rights Reserved.

Last Update: 2/7/2019