Dempsey Essick is a self taught, self expressed realist watercolor artist. He is known as the Hummingbird Bird Artist; not only for the hummingbirds he paints but for the hidden hummingbirds he hides in his paintings.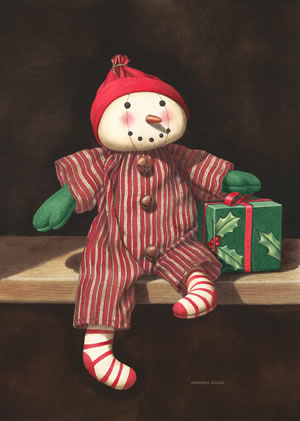 "Waiting for Christmas"
Tucked in at night, a child sleeps warm and safe beneath the covers. Thoughts of morning's light and the hopes of good things to come merrily chase each other in his dreams. In anticipation, a child waits for Christmas.
The painting, designed for use as a Christmas Card for the American Children's Home, has become one of Dempsey's beloved Christmas images to date. The small doll accompanies the framed print and both promise to be a source of warmth and smiles throughout the year.
You may look for the hidden hummingbird image along the corner of the gift.
Comes with matching doll.
SOLD OUT
Copyright ©
• www.DempseyEssick.com •
All Rights Reserved.

Last Update: 2/7/2019