Dempsey Essick is a self taught, self expressed realist watercolor artist. He is known as the Hummingbird Bird Artist; not only for the hummingbirds he paints but for the hidden hummingbirds he hides in his paintings.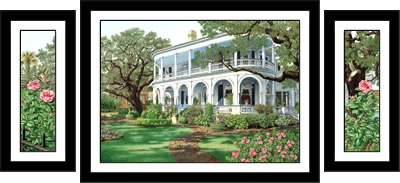 "Wings"
Unique to the "Two Meeting Street" print is "Wings" - a pair of prints that complete and extend the art image by 5 inches on each side. Enhanced by Dempsey's hummingbirds in the foreground, the 2 "Wings" prints can be placed with "Two Meeting Street" in one frame or framed separately to make an attractive 3 pc grouping. Because of their odd size the pair also look great flanking a doorway or window.
Please see our samples at the gallery and you'll see that the pair of "Wings" compliment and can work with any of the Charleston prints.
Copyright ©
• www.DempseyEssick.com •
All Rights Reserved.

Last Update: 2/7/2019