Dempsey Essick is a self taught, self expressed realist watercolor artist. He is known as the Hummingbird Bird Artist; not only for the hummingbirds he paints but for the hidden hummingbirds he hides in his paintings.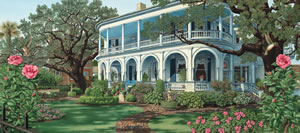 "Two Meeting Street" Giclee,
Full Image
The "Two Meeting Street" giclee presents the only full, extended, view of Dempsey Essick's popular painting. For the regular edition lithograph print, the sides of the image were cropped but with the giclee you see the full image as it was painted.
A giclee (pronounced gee-clay) is a recognized fine art print category like lithographs and serigraphs. Giclee is considered among the world's best technique for reproducing original works of art as it allows the print to be reproduced on the same quality paper as the original is painted. In our case, your giclee is printed on paper much like the watercolor paper Dempsey uses. Because of how the ink adheres to this better quality paper, giclees look very much like original art. However because of the cost of the paper, the fact that they are produced individually by state of the art equipment, the giclee is a more expensive print. The image permanence of giclees lasts up to 200 years when proper museum lighting is used.
Copyright ©
• www.DempseyEssick.com •
All Rights Reserved.

Last Update: 2/7/2019