Dempsey Essick is a self taught, self expressed realist watercolor artist. He is known as the Hummingbird Bird Artist; not only for the hummingbirds he paints but for the hidden hummingbirds he hides in his paintings.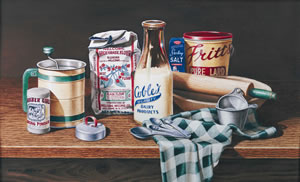 "Timeless Recipe"
The ingredients of this painting are no strangers to anyone familiar with southern cooking. In fact, countless mornings have been spent mixing these various ingredients before the sun has even risen.
2/3 - 3/4 cups of buttermilk
1 - flour sifter
1/4 cup - shortening (lard)
1 - rolling pin
2 cups - all purpose flour
1 - dough bowl
1 teaspoon - iodized salt
2 - measuring cups
1 tablespoon - baking powder
Bake at 500 degrees for 8 to 10 minutes or until golden brown.
The painting itself includes different historical items from Davidson County. Dempsey has selected a unique group of local memorabilia for the painting "Timeless Recipe." A Coble Dairy milk bottle, a Fritts lard can, a Welcome Mill Flour bag, and a biscuit cutter from our friends at the Fancy Pastry Bakery, are the main components. An antique sifter, dough bowl, baking powder can, and salt box, are also incorporated into the painting.
Copyright ©
• www.DempseyEssick.com •
All Rights Reserved.

Last Update: 2/7/2019