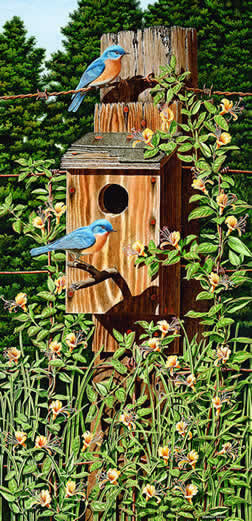 "Summer Blues"
Eleven years ago, Dempsey Essick's son, John, built a bird house and nailed it up on a nearby fence post. That spring, he was delighted when a pair of bluebirds moved in to raise a family. Each spring after that, the bluebirds would come back and today there are several generations of songbirds who started as hatchlings in John's bird house.
John has gone off to college now and recently the bird house came down along with the fence but Dempsey has always held the scene close in his memory. Helped by a few old snapshots, Dempsey has recreated the scene as it appeared in its last year when the nails had rusted, the wood had weathered and a piece of the shingle had blown off the roof.
In the painting, which he calls "Summer Blues," Dempsey has captured a fleeting moment when both bluebird parents have paused outside the nesting box. The picture reflects Essick's imitable style combining, as it does, the weathered elements of a rusty barbed wire fence emerging from a concentrated tangle of honeysuckle.
Considering that each individual stem, leaf and blossom (there are thirtyseven blossoms) required numerous strokes of his very small brush, it would be safe to say that "Summer Blues" was not only one of Essick's more mature efforts but that the painting also represents an investment of time over and above anything else that the artist has done. His depiction of the weathered wood along with the rust encrusted wire and nail heads combined with the enormous amount of fine detail in the living foliage, required eight weeks of twelve to twenty hour days to complete.
Most viewers will immediately discover the two bees in the painting even as they remember the sweet smell of honeysuckle blossoms. Some will even be reminded of those childhood days when they would pluck the blossoms and suck the sweet nectar from the stems.
Especially sharp eyed viewers will detect a rebus-like hidden image formed by elements of the painting. This is the first painting that Dempsey included a hidden hummingbird.