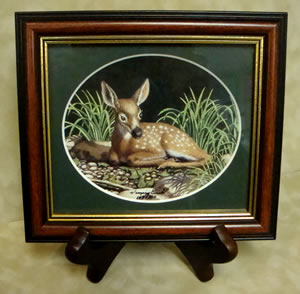 "Streamside Rest"
Perhaps once in your lifetime, if you are very lucky, you might stumble across a scene like this one. You are hiking along a quiet woodland trail or, perhaps soundlessly wading in a stream, and there before you is a fawn, just awakening. You only glimpse it for a second before it disappears into the safety of the trees. But the image is burned into your memory forever. You never forget that magic moment.
When Dempsey Essick was scouting the location for his painting "Wilson Creek", in the Blue Ridge Mountains of North Carolina, he encountered memorable moments every day. He can remember the distant sound of a woodpecker knocking on a tree trunk; the splash of a mountain trout catching an insect; the percolating sound of water as it hurries over stones that were smoothed from being washed for centuries.
He came away convinced that this was not the only fawn, over the years, to find this spot of sunshine by an ancient stream and someday he might return and see this fawn's offspring in the same spot.
Gift Boxed w/Easel: $30.00