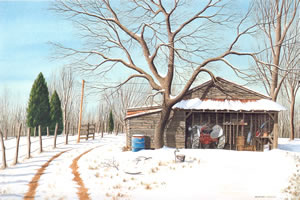 "Spring Thaw"
The old tractor shed on highway 150, in the northern part of Davidson County, North Carolina, originally caught my attention because it was so much like the one on my dad's farm, where I grew up. Every time I would drive by it seemed to draw my eyes like a magnet. Then, one day about two years ago, just after the last snow of the season, I saw the picture I wanted. The snow was beginning to melt under a sunny sky which gave me the contrast of strong shadows from trees and fence posts and the snow on the-ground reflected enough light into the shed to reveal tools, gas cans and equipment that had been stored for the winter. The only thing missing was a tractor. You can't have a tractor shed without a tractor so, what you see in the painting is the back end of my dad's tractor.
Old buildings have always appealed to me. I like to learn their history - who built them and when. I didn't expect to learn much from the history of an old farm shed so you can imagine my surprise when I met Mrs. Irene Miller and found out that this shed was originall y a Gulf service station and country store. The building was put up by Mrs. Miller's father-in-law, David Miller, in the 1920's and, for almost three decades, it was known as the "D.K. Miller Service Station".
Mrs. Miller showed me some remembrances from when the store was a thriving business. She has a patio table that her husband, Odell, made from the big, round, Gulf sign that once hung out by the highway. And there was a clipboard full of credit slips from the 1930's showing sales of gasoline at ten cents a gallon, coffee at fifteen cents a pound and Tuberose snuff at ten cents a can. Looking through the slips I could picture, in my mind, country ladies in gingham dresses, passing out the latest news on who was getting marrried or having a baby and the men in bib overalls, discussing the Hoover/Roosevelt campaign and children buying stick candy, with a shiny prize ring around each stick, for a penny.
The advent of supermarkets, a changed road and the beginning of gas rationing during World War II, forced the D.K. Miller Service Station out of business early in the 1940's. Mr. Miller moved the building a hundred yards west of its old location and it served out the remainder of its days as a tractor shed.
I painted Spring Thaw in March, 1990, and it got so much favorable comment at shows in Winston-Salem, Lexington, Gastonia and High Point, with many people saying that they would like to have a print, that I decided to use it for my spring release. Just a few months after I had completed the painting, the old building was torn down and the tree in front was removed so now, after years of duty as a service station, store and shelter for farm equipment, the scene you see in Spring Thaw is just a pleasant memory.