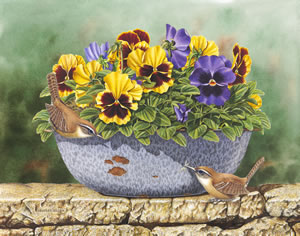 "Spring Fling"

When two wrens take a fancy to each other
Spring is a busy time in the world of birds. It is a time to build nests, lay eggs and raise the young. It is an especially busy time for the male Carolina Wren who may build three or four stick and twig nests in shrubs or mail boxes or a dish pan garden of pansies like the one shown here, before his mate decides on the one that will be home to her family. Perhaps, in this case, she wants her hatchlings first view of the world they will live in to be filled with the color and beauty of flowers in full bloom.
As he does on many of his paintings, Dempsey created life sized, clay sculptures of the birds to use as props during the process of creating the painting. Since it is impossible to convince the birds themselves to hold a pose, Dempsey molds, by hand, life size models of the birds in the pose he plans to use in the painting. The sculptured models are very lifelike and contribute greatly to the reality and overall beauty of the finished painting.
"The birds, flowers, and old dish pan are all subjects that I love to paint." Dempsey shared. "As always I have added a hidden hummingbird and this time it is a bit easier to locate. Try looking in the rock wall."
Shelley Shares
"Dempsey has played with clay for as long as I have known him. When we were dating he would show up at the door all looking nice and smelling good and there would be that wad of clay in his shirt pocket. Being naughty he would make figurines and say they would be us one day. I find it interesting how Dempsey molds an image without ever looking down to see what he is doing. Recently he made clay tractors for Elim and Olin to use when tipping tractors as seen in the Cars movie. He would love to release a sculpture one day and I am sure it would be that of a hummingbird."