Dempsey Essick is a self taught, self expressed realist watercolor artist. He is known as the Hummingbird Bird Artist; not only for the hummingbirds he paints but for the hidden hummingbirds he hides in his paintings.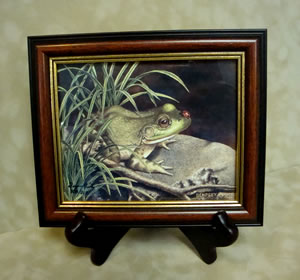 "Something to Smile About"
Dempsey Essick's second painting in his Critter Collection is reminiscent of every 'Bullfrog Sitting on a Lilypad' song you ever heard. The frog in this instance is actually sitting on a rock but you can see from the gleam in his eye that he is about to enjoy his lunch.
In his usual inimitable style, Dempsey takes the viewer on a whimsical ride right down to the edge of the stream where you can hear the flow of the water and see the frog smile. The ladybug is not yet aware that her selection of a landing pad was a huge mistake.
There is no 'Broad Stroke' artwork here. In this small masterpiece Dempsey demonstrates his specialty which is a meticulous attention to detail and an unmatched skill with the small brush. His depictions focus the viewers' attention to the small beauties that surround us and sometimes go unnoticed.
Gift Boxed w/Easel: $25.00
Copyright ©
• www.DempseyEssick.com •
All Rights Reserved.

Last Update: 2/7/2019