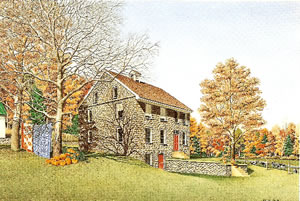 "Shades of Autumn"
Old houses draw Dempsey Essick to them like a magnet. No matter where he travels, the old buildings seem to call out to him. He is intrigued by their history and delighted by the people who preserve and live in the old structures.
The house in "Shades of Autumn" was built by Theodorus Eaby in 1727 near New Holland, Pennsylvania in the heart of Amish country. Recently the great-great, great-great, great-great grandson of Theodorus, Christian Eaby, and his wife, Dace bought and are restoring the old family homestead.
Dempsey has depicted the Eaby house as it appears on an Indian summer day with colorful foliage as a backdrop. His exact rendering of the stonework pays tribute to the workmanship of masons who erected the building over two and a half centuries ago. The scene harkens back to those early days when the paint on the doors and window frames was still fresh, pumpkins for Thanksgiving had been harvested, and the lady of the house had hung handmade quilts out to soak up the warmth of the fall sunshine. The realism is such that a viewer can almost smell the aroma of fresh baked bread and hear the bell in the rooftop cupola calling the workers in from the field while cows graze in the meadow.
"Shades of Autumn" enhances Dempsey Essick's reputation for seeking out historical subjects that reflect the early rural landscape of our country.