Dempsey Essick is a self taught, self expressed realist watercolor artist. He is known as the Hummingbird Bird Artist; not only for the hummingbirds he paints but for the hidden hummingbirds he hides in his paintings.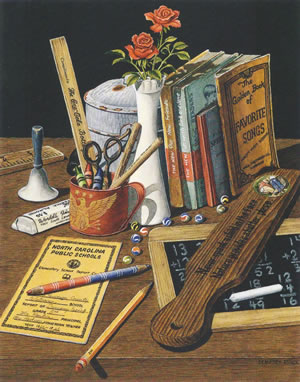 "School Memories"
Artist Dempsey Essick, educated in the Davidson County Schools, created this original piece of art used on the colorful dust cover of the book that describes the history of the first 150 years of public education in Davidson County.
Did you notice that the report card featured in the painting is Dempsey's?
Copyright ©
• www.DempseyEssick.com •
All Rights Reserved.

Last Update: 2/7/2019