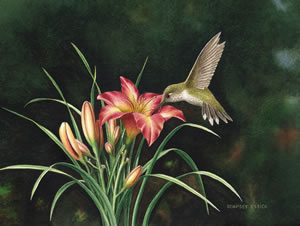 "Ruby's Daylily"
Dempsey Essick sees the world through the eyes of an artist. While the rest of us may see and admire a beautiful building, or a bed of flowers, or a breathtaking landscape, Dempsey will frequently focus on a small segment of the whole and he will paint a small picture of that miniature scene and the picture will glow like a jewel.
He saw such a scene as he was scouting Ruby Potts lily field for his large painting "Daylily Days." Ruby has bird feeders in her yard that attract many small birds of all types. On an average day in the summertime one can spot everything from a nuthatch, to a downy woodpecker, a purple finch, a Carolina wren, - almost any variety of songbird that can be found on a summer day in a friendly back yard, among them, dozens of hummingbirds.
In this painting Dempsey has captured the beauty of one of Ruby's isolated daylilies. Photographed and used for reference, he decided it would make a beautiful painting on its own. Being the hummingbird fanatic he is, he added the mother hummer sipping nectar to create the perfect painting. Appropriately titled, "Ruby's Daylily", this piece is lovingly dedicated to the talented gardener Ruby Potts.
As is his custom, Dempsey has included the rebus type image of a hidden hummingbird in the painting.