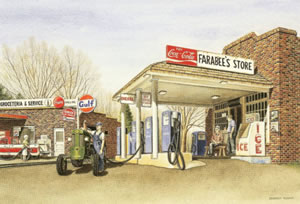 "Reeds Crossroads"
"Reeds Crossroads" depicts the intersection of the old US Highway 64 and NC Hwy 150 in northwestern Davidson County as it appeared before the Temple Groceteria and Farabee's Store closed their doors forever.
In his painting Dempsey has captured a moment when both stores were at their peak. Mrs. Nancy Temple is pumping gas at the Temple Groceteria while Boyd Parnell fills his tractor at Farabee's. Jack Craver stands in the door passing the time of day with Jim Hunt, who at age 95, still opens his cafe across the corner each day to serve lunch less than a hundred yards from where George Washington had lunch on his post-inaugural tour.
Dempsey has rendered the colors and details of the scene with the exactness that is his hallmark. Looking into the picture, a viewer feels the soft sunshine and hears the traffic passing by. But the spirit of "Reeds Crossroads" is best expressed in the words of Aubrey Temple who said, "We had friends, not customers."
Closing Country Store
On Feb. 28, 1994 we will close Farabee's Store in "downtown" Reeds Crossroads.
My grandfather, M.P. Farabee, built the store in 1927 and operated it until his retirement in 1968. What a pleasure my wife Jeanne and I have had in 25 years of serving the great people in this neighborhood. The greatest pleasure has come from watching little ones get tall enough to see over the counter and later bringing their little ones to stand on tip-toes at the counter.
Country stores are leaving the American scene - I for one am sorry to see them go.
Jack F. Craver
Reeds