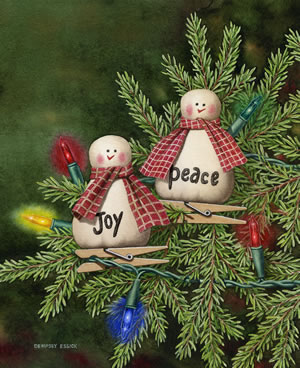 "Peace & Joy"
The pure pleasure of a child's homemade decorations lasts from Christmas to Christmas. Whether it is a cutout red paper Santa or, perhaps, a couple of hand made snowmen, each year, when you place them on the tree you remember all those past Christmases. Dempsey Essick has captured the spirit of Christmas at home in his painting of "Peace and Joy." It's not just about one Christmas but, rather, about a lifetime of Christmases.
As always Dempsey has included a hidden hummingbird in the painting. Hint: To locate the hidden hummingbird, follow the strand of lights.
Peace and Joy" was painted for the Baptist Children's Home 2007 Christmas card.
Comes with easel & pair of ornaments.
SOLD OUT