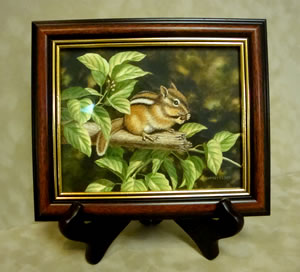 "Parkway Picnic"
Sometimes Mother Nature's creatures decide to lighten our day.
On a recent mountain picnic along the beautiful Blue Ridge Parkway, a spunky chipmunk joined the artist, Dempsey Essick and his wife Shelley. The curious little critter would come out on a nearby bare limb and eat his acorn then scamper away for another. This went on for the entire outing. Each time the little critter would come back to the same spot as if he were the host and the Essick's were honored guests. And, indeed, they were.
Joining tourists for a picnic is probably something the chipmunk does on a daily basis. It made for an unforgettable "Parkway Picnic" for the Essick's and now it is an unforgettable image on Dempsey's small painting.
Contain your search for the hidden hummingbird in the leaves behind the chipmunk.
Gift Boxed w/Easel: $25.00
Dempsey Shares
"I knew I had to capture this scene that is written indelibly in my mind. As Shelley and I enjoyed our picnic lunch of a Subway sandwich and glass of tea, this little critter ate his lunch right there on a branch in front of us. When he finished one nut, he would scamper off after another and return to the very same spot again. He wasn't the least bit afraid of us and he enjoyed the warm sunshine as we did. He even seemed to smile when I took multiple photos of him."