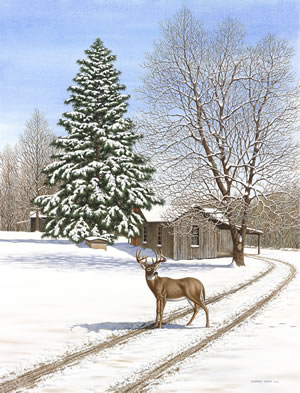 "The Old Place"
For the most part, painters deal in natural beauty and nostalgia. Dempsey Essick is no exception. His aim in life has been to recognize the simple beauty in everyday scenes and objects and it has been his great good fortune to have the skill to record those scenes in memorable watercolor paintings.
For "The Old Place," his latest painting, Dempsey has returned to his grandparent's homestead where, as a young boy, he helped pull tobacco and enjoyed many hours on the farm.
As always the artist has hidden a rebus type image of a hummingbird in the painting.
Please note: Dempsey will, at no charge, add no more than two initials to the knot of the tree in the foreground. How special!
Dempsey Shares
"When I was a boy growing up during the 50's and early 60's time spent at Grandpa and Grandma's house, which we called The Old Place, was special. I can still smell Grandma's light rolls and country ham cooking. I have vivid memories of Grandma telling ghost stories at the tobacco barn during curing season. The time spent helping Grandpa pull tobacco was quite an experience.
I would drive Old Nick, Grandpa's work horse, and make sure he pulled the sled in a straight line between the tobacco rows. When Nick did get out of the row, Grandpa had some choice words for him. My favorite time of the day was mid morning when Grandpa would go to the store and get us a drink and a snack (I always asked for a Pepsi and oatmeal cookie). Then at lunch time we would go to the house and eat a meal that Grandma had spent all morning preparing. I thought it was the best food I had ever eaten."
"I had wanted to do a painting of the old place for a long time, so a couple of years ago, just after a beautiful snowfall; I found the perfect setting, with the tobacco barn in the background and the old house in the foreground. The snow covered evergreen completed the composition. The addition of the 11 point buck crossing the drive is a tribute to my late father, Billy Olen Essick, who was born at the old place and had a great love of deer hunting."