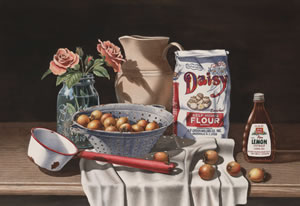 "October's Treat"
Mmm, persimmon pudding.
Folks in David County may remember this old-fashioned treat when October rolls around. That's why artist Dempsey Essick has chosen this delicious dessert as the focal point of "October's Treat".
Sadie Naylor – "Granny" to her family – knew how to make persimmon pudding. She never made a dessert without Daisy Self-Rising Flour, made in Mocksville by J.P. Green Milling Co.
The mill is still in existence, and is run by Mrs. Naylor's grandson, Ralph.
The mill was formed around 1836, when Davie County split off from Rowan County. When J.P. Green purchased it in 1911, he disassembled it from Dutchman's Creek and reassembled it at its current location, 496 Depot Street in Mocksville, where it's operated ever since.
"The actual structure has been around a long, long time", Ralph says.
Mr. Green was an uncle of Granny Naylor's husband, Floyd. In fact, the couple met when thay worked at the mill. Mr. Naylor later became a partner in the mill, and bought it outright in 1951. The Naylors called one another "Granny" and "Pappy".
Besides producing Daisy Flour, the mill also makes hush puppy mix, Liberty Cornmeal and Winner Feeds. If offers 24 kinds of poultry feed alone, Ralph says. The mill delivers its goods within a 450 mile radius to restaurants, fish camps, small country stores and small supermarkets.
Ralph remembers his grandmother as a good cook and a hard worker, as well as someone who always took care of her family.
He also remembers Granny Naylor's persimmon pudding, although he admits his favorite dishes were her Irish potatoes and her biscuits.
Granny Naylor's Persimmon Pudding
2 cups persimmon pulp
2 cups sugar
4 eggs
2 sticks margarine or 1/2 pound of butter
1 3/4 cupa Daisy Self Rising flour
1 cup milk
2 teaspoons vanilla or lemon flavoring
Mix all ingredients together but margarine. Melt 2 sticks margarine in Pyrex dish. Let cool and pour mixture in dish. Top with 1/2 cup brown sugar. Dice 1 stick margarine over top. Bake 45 minutes at 325 degrees. Turn off oven and let set for 10 minutes
In "October's Treat" it looks as if Granny Naylor is ready to make a recipe of persimmon pudding.
A colander full of just-ripe persimmons awaits – no "persimmon pucker" here. There's also a ladle and a pitcher of milk, along with Ann Page lemon extract, and of course, a five-pound bag of self-rising Daisy flour. All of these cooking utensils were owned by Granny Naylor, who died in 1994 at the age of 89.
Because Granny Naylor was also known for her roses and other flowers as well as her cooking, a Ball jar filled with two perfect pink roses completes the scene.
Mrs. Naylor's daughter, Janie Cozart, now makes the dessert using her mother's recipe.
"It tastes just like Granny's" says Nan Naylor, Ralph's mother.
"October Treat" is the second in a series of paintings based on settings in Davie County. The first piece was the Old Courthouse in downtown Mocksville, which was released in 1997.
Dempsey hopes that his friends in Davie County – and elsewhere – will enjoy "October's Treat".