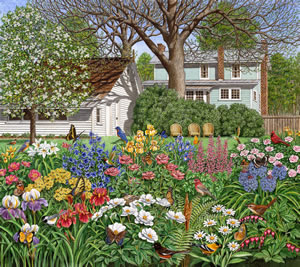 "Mary's Secret Garden"
Mary Elliott's home at 425 Lexington Avenue is the oldest in Thomasville, NC. From the street, the old house looks pretty much like others in the neighborhood but, if you are fortunate enough to be invited into the back yard you should be prepared for Thomasville's Best Kept Secret. Mary's back yard is huge and, with the exception of a garage, a tool shed, workshop and a pile of dried leaves, used for mulch, she has committed the entire space to growing the most colorful flowers. During the spring and summer (though Mary's Garden is in bloom year round) the space is a riot of color and sound from the hundreds of songbirds who find a blissful refuge among the flowering plants. Widowed at an early age, Mary has devoted her life to her flowers and they, in turn, have comforted her and brought her much joy.
Butterflies and songbirds find the site irresistible. At any given time the visitor is likely to see hummingbirds, goldfinches, robins, cardinals, chickadees, and finches, even an occasional titmouse or any one of the dozens of beautiful birds common to piedmont North Carolina. And as his custom, Dempsey has included a rebus image of a hummingbird hidden in the painting.
Looking across the plots of colorful flowers to the peaceful invitation of the lawn chairs, Dempsey has captured the natural beauty of a glorious mix of colors accented by the ever present song birds that add more color and sound to a scene out of a fairy tale. One can only imagine the serenity of a perfect summer afternoon, sitting in the shade of that big tree sipping a glass of iced tea while being entertained by the birds and butterflies. Life can be good.
California show includes Essick Art
Davidson County artist Dempsey Essick is among the National Watercolor Society's members whose work was juried into the Spring 2014 Exhibition.
Out of the 550 entries, Essick's original painting titles "Mary's Secret Garden" was one of 80 selected to hang in the NWS Gallery for the two-month-long show in San Pedro, California. The exhibition represents almost every form of water media painted on every type of paper from rag to Yupo.
The National Watercolor Society, an elite 94-year-old organization, presents the best of water media paintings, representing a wide range of directions and techniques, from experimental to traditional. Essick has held full signature membership since 1999.
Dempsey Shares
"I receive hundreds of emails with painting suggestions but somehow the one from Mary Elliott caught my eye," Dempsey shared "and I think it was divine intervention."
"As I studied the photos Mary had attached of her house and flower garden I was instantly drawn to them. I could tell there was something special about her home place. I love old architecture, florals and birds and a painting idea began to form in my mind. Real art comes from the heart and my heart was touched and I fell in love with the place before I ever went there."
"It was a wonderful experience meeting and getting to know Mary Elliott. I was in awe of her great knowledge of gardening. She loves nature and nature loves her- you can tell this by the way the plants respond to her loving touch. Even though Mary is not in the painting, you can see her finger prints all over it. "
From the Garden with Mary Elliott
God has blessed me tremendously! He gave me a great love for plants and He gave me a great husband who taught me more about gardening and life in general. He was a wonderful man and I cherish every minute we had together.
My Daddy gardened as far back as I can remember. He raised a vegetable garden every year and he grew flowers as well. The last year he lived we made a new bed with peonies and Dutch iris. Unfortunately he did not live to see them bloom. Daddy taught me about gardening and instilled in me a love for gardening.
I also had neighbors when I was young that loved to garden and they were an inspiration as well. I have plants that were shared with me maybe 40 years ago and I cherish the memories of the people they represent.
Even though I have a degree in horticulture from NCSU, my greatest knowledge was acquired through experience. Mulching with leaves and liming are the two most important things I do. I use oak leaves because they do not break down as fast. Mulching with leaves serves several purposes. It keeps the weeds down, moisture in and draws the earthworms that help break down the leaves. As the worms work they loosen the soil and add organic matter. As a result you will need less fertilizer each year. Most flowers and vegetables need to be in a pH range of 6-7. All nutrients are available in that range. If the pH goes below 6 or above 7, the nutrients start to become less available. As a result, plants can suffer.
I do not irrigate. Once the leaves are put out most of my work is done. When I put new plants in the ground I fertilize them once and water them and then put them in God's hands. Very seldom do I ever go back and water again. I rarely lose plants.
When thinking about planting shrubs, ALWAYS look at the area and determine the maximum size you want the plant to be at maturity. Then look at various shrubs and pick what will not exceed the maximum size you want. I really do not like to see any shrub pruned into oblivion. I like to see shrubs grow in their natural shape and form. They are so much more striking when they are blooming and you notice the beautiful flowers rather than the shrub that has been cut like a box or in a circular form with most of the flowers eliminated. By picking the right shrub for the right spot, you eliminate the need to prune, thus cutting down on labor in the yard. It is a win win for both you and the plants.
Instead of planting a shrub here and there, consider making large beds of shrubs or flowers. That way you are mowing around a large area instead of individual plants. That saves a lot of time when mowing and eliminates trimming around multiple plants.
I like flowers in bloom all year round; therefore I plant so that I will have something in bloom all four seasons. It encourages one to get out and walk around to see what is in bloom. I also like to plant flowers that have a large bloom so I can see them from inside the house.
I am really a lazy gardener and am always looking for ways to make my job easier. Gardening is really fun and is a great stress reducer. I can go to my garden and start working and forget about everything else. It is wonderful to stand back and see what I have been able to do and I find it very interesting to see what others do in their garden spots as well. The best part for me comes when I am able to share my garden with others and spend hours talking with them about gardening. The world seems to stop and nothing else matters when I am sharing in my "secret garden."