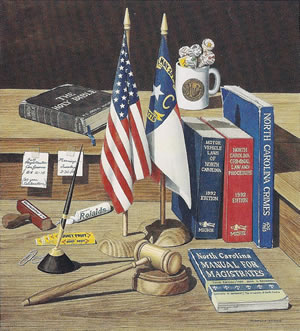 "The Magistrate"
To celebrate the twentieth anniversary of the founding of the North Carolina Magistrates Association, Dempsey Essick has created a special release available only to the Magistrates.
Dempsey's portrayal of the corner of a typical Magistrates desk captures the essence of the office that has been called, "The front line of the courts." The viewer first notices the national and state flags in close proximity to a worn Bible, both symbols of truth and duty. Then the eye discerns a graphically pleasing red, white and blue color bias in the reference volumes with their tattered covers and paperclip index markers. A coffee cup filled with lollipops along with chewing gum and antacid tablets complete the picture, leaving a lasting impression of a very human and dedicated person in service to the citizens of North Carolina.
When he was first approached about doing a painting to commemorate twenty years of the North Carolina Magistrates Association, Dempsey was in a quandary. The problem was to put something in the painting that would be representative of each of the hundreds of Magistrates scattered through a hundred counties from the Blue Ridge Mountains to the Outer Banks.
His choice of a work station with reference books and personal items that would be familiar to every Magistrate was the ideal solution.
"The Magistrate" illustrates Dempsey's devotion to detail as well as his unexcelled draftsmanship and control of color. The realism in every line, from the wood grain of the desk to the ink smudges on the rubber stamp, are hallmarks of an Essick painting.