Dempsey Essick is a self taught, self expressed realist watercolor artist. He is known as the Hummingbird Bird Artist; not only for the hummingbirds he paints but for the hidden hummingbirds he hides in his paintings.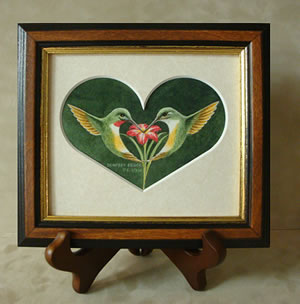 "Lovely Dovey"
Valentine's Day is approaching and you need an usual gift for your wife. So what does a feller do?
Well, if you're Hummingbird Artist Dempsey Essick you paint something special- a male and female Ruby Throated hummingbird, kissing and forming the shape of a heart. You take that small original and frame it with a heart shaped mat, title it "Lovey Dovey' and you've got a winner. At Shelley's encouragement, Dempsey is sharing his love offering with you, released as a thumbnail print. Perfect for a wedding or anniversary gift, this thumbnail is sure to please any lady on any occasion. It's truly love-ly!
Gift Boxed with easel: $28.00
Copyright ©
• www.DempseyEssick.com •
All Rights Reserved.

Last Update: 2/7/2019