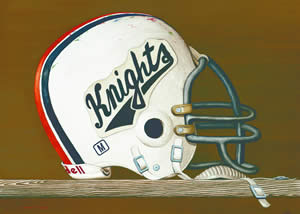 "Knights"
The great thing about the high school game is that it is the very top level of purely amateur football. It is the level where an untried kid can suit up and go out on the gridiron to test himself.
Beyond are college players lured by scholarships and dreams of playing professionally. Beyond that are the pro's who are wrapped up with wealth and fame.
In this little corner of the world the North Davidson Senior High School "Black Knights" are always the team to be reckoned with. They are always tough, always competative, and always a winner even if the score might go the other way.
The battered helmet used as subject matter belongs to Quarterback Jeffery L Nicholson, Class of '84.
This small tribute was painted by Dempsey Essick, one of the top painters in North Carolina and, coincidentally, a former Black Knight halfback/defensive end (number 30) and graduate in the class of 1972. Go Knights!