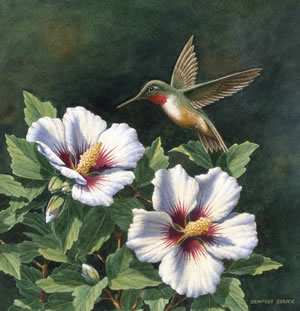 "Hummer's Choice"
You can't ignore a hummingbird. Other birds, yes. You can be aware of sparrows in the trees without actually looking at them. You might notice the flash of red from a cardinal perched on the limb of an apple tree or even pause to admire a bluebird sitting on a fence post, but a hummingbird absolutely demands that you take note of its presence. They flash into view at almost supersonic speed then stop, astonishingly, in mid air. You just cannot ignore that.
The Ruby Throat in Dempsey Essick's painting, "Hummer's Choice", has stopped to milk the nectar from a beautiful Rose of Sharon blossom. Dempsey has captured the moment as only he can. Each leaf, each fold, even the texture of the blooms are reproduced with such realism that one can almost hear the beat of the hummer's wings.
"Hummer's Choice" was first released as a collector's plate but due to the great demand from the public, it is now offered in a limited edition giclee.