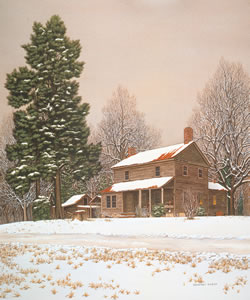 "Homeplace"
Old homesteads usually carry the name of the original owner/builder through the years. The 200 year old Hayden Place, on Wesley Chapel Road, in Davidson County, is no exception.
In 1797, after Jesse Hayden married Rosana Sloan, Rosana's daddy deeded the couple 646 acres of land along Potts Creek in the western part of the county near the Yadkin River. There the happy couple built their dream house. The house was occupied by Jesse and Rosana, and their descendants for the next 118 years before becoming a tenant farm after 1916.
Mrs. Vadie Queen, the 82 year old lady who has lived in the Hayden place for thirty-eight years, is true to the legacy of Jesse and Rosana. Mrs. Queen keeps chickens and still heats with wood and cooks on a wood stove.
Dempsey Essick chose to depict the "Homeplace" in winter when the snow provides suitable highlights for the old dwelling. The trees in the background are barren, allowing the towering cedar in the front yard to be the primary focal point of the picture.
The artist's trademark realism is manifest in every aspect of the twilight scene. The view is to the west where the sky is still light just after the cold winter sun has set. Slush in the road has refrozen so that the sound of passing vehicles reverberates in the still countryside.
Admirers of Essick's work will be pleased with the wealth of detail in the "Homeplace." The hand-made bricks in the two chimneys; his rendering of each board and post in the house and out buildings; the delineating of each branch and twig in the leafless trees; all are elements of what has become the Essick touch.
The viewer, seeking relief from the stark cold depicted in the painting, is warmed by a glow from the kitchen window. Images come to mind of the family gathered around the supper table, talking, laughing, recounting the day's events.
In the meantime, a lone chicken can be seen scratching for food under the shrubbery.