Dempsey Essick is a self taught, self expressed realist watercolor artist. He is known as the Hummingbird Bird Artist; not only for the hummingbirds he paints but for the hidden hummingbirds he hides in his paintings.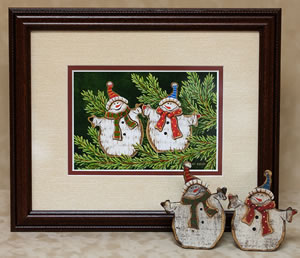 "Holding Hands"
Oh my gosh...every Snowman Lover has gotta have this.
Framed print with matching ornaments. Enjoy year round.
Image Size: 4 1/4 x 6 1/2
Framed size: 10 x 12
SOLD OUT
Copyright ©
• www.DempseyEssick.com •
All Rights Reserved.

Last Update: 2/7/2019