Dempsey Essick is a self taught, self expressed realist watercolor artist. He is known as the Hummingbird Bird Artist; not only for the hummingbirds he paints but for the hidden hummingbirds he hides in his paintings.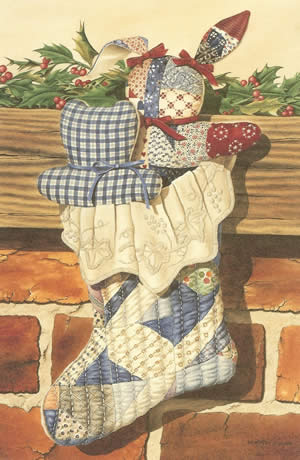 "Handmade"
The simple beauty of a Christmas stocking fashioned from the remnants of an old patchwork quilt was the stimulus for "Handmade," Dempsey's fall 1992 release.
The monetary worth of a hand-embroidered stocking filled with homemade stuffed animals is negligible, especially in this age of high priced plastic toys. The actual val ue of the handmade gift is in the investment of skill and love by the person who spent untold hours creating the gift.
The original painting for "Handmade" was used for the American Children's Home 1991 Christmas card. For several years Dempsey has created the Home's Christmas card design but "Handmade" touched off an avalanche of requests for a full sized print of the painting.
In the picture the stocking is hung from a hand-hewn mantel board which tops a fireplace of handmade brick. The wild holly is the only item in the scene that is not made by hand. Dempsey's masterful rendering of the embroidery and quilted fabric with its intricate stitchery and small wrinkles is so real that viewers will be reminded of their favorite Christmas carol.
Copyright ©
• www.DempseyEssick.com •
All Rights Reserved.

Last Update: 2/7/2019