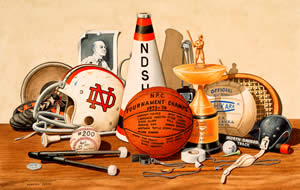 "Forever Knights"
North Davidson Senior High School alumnus, Dempsey Essick, has created an intricately detailed collage of sports artifacts to pay homage to the school's long-time basketball coach and athletic director, Pete Jones.
On viewing the painting the eye immediately goes to the snapshot of Pete Jones who seems to have gathered around him the mementos of a career spent guiding young boys and girls on their road to adulthood. The central grouping includes the North Piedmont Conference Tournament game ball from 1973-74, a state championship baseball trophy, the softball used when the girls team won their 200th victory, and sitting next to a cheerleader's megaphone, a battle scarred football helmet which bears the colored bruises of each of the Knights' conference rivals.
There are two batons, one for twirling and one for the track relay team. The rest of the paraphernalia runs the gamut from a trainer's roll of adhesive tape and a score keeper's pencil to a golf ball, a wrestler's ear protector, a volleyball, a tennis racket, a discus, soccer shoes and the sticks to beat a big bass drum.
The sum total of Pete Jones' life as the leader of the Knights is not to be found in the artifacts of the various sports or the columns of numbers indicating wins and losses. Regardless of the score on any particular day or in any particular game, the mark of the man is in his impact on the young men and women who have learned to win with grace and lose with dignity. The hundreds of students who have learned the discipline of persistence, how to set a goal and attain it whether it be in the athletic arena or the arena of life, is the true legacy of Pete Jones. On that ultimate scorecard all the Knights are forever winners.