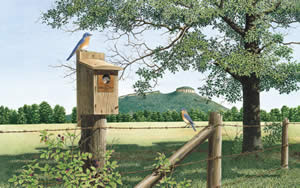 "Fledgling"
In "The Fledgling", Bird lover, Dempsey Essick, has captured one of life's defining moments. Against the backdrop of Pilot Mountain. Mother and father Eastern Bluebirds patiently coax the last of a brood of four to take a leap of faith and fly to a nearby tree where her newly fledged sister and tow brothers are waiting. The youngster is being asked to leave the only world she has ever known, the nest inside the protective box where she hatched and where she has been protected and fed. The experienced parents understand what the child is facing and are patient, knowing that there can be only one conclusion.
When "The Fledgling" finally leaps into space she will discover a freedom known only to a bird. She will exult in zooming to the highest branches, soaring over the landscape, even to the very outside a nesting box, coaxing her own fledglings into that first step into thin air.
The setting for "The Fledgling" is located in Surry County, North Carolina, in the small community of Perch. The view is the south side of Pilot Mountain from the Jack Fulk Farm. The farm is located at the intersection of Grassy Creed Road and Perch Road. "When I was small and I saw that view of the mountain, I knew that I was close to home. It now reminds me of the family members that have gone on and it comforts me with memories we shared," said Ann Blackburn, daughter of the late Mr. Fulk. Ann's comments were one reason that Dempsey was drawn to this site.
While "The Fledgling" is a straightforward landscape painting is was, technically speaking, one of the most labor intensive painting Dempsey has done. To attain the "Essick Look" each leaf and blade of grass had to be delineated, shaded and highlighted. There are no shortcuts in this style of painting. Only hundreds of hours of intense effort can bring about a painting like "The Fledgling". The reward, in the end, is when the artist steps back after the final brush stroke and, through strained and burning eyes looks at what he has accomplished and knows that it is good, that what he has done is worthy of his reputation.
The bluebird box in "The Fledgling" is one designed by Dempsey and, unlike most bluebird boxes, features a rounded top to divert rainwater from the entrance hole. Dempsey feeds birds at home and has also put up a bluebird box behind the Gallery in Welcome. He was delighted when a pair of bluebirds took up residence less than ten minutes after he had finished with the box.
In 2002, the North Carolina Bluebird Society elected Dempsey as president because of his enthusiasm and love of the bluebirds. His desire is to educate the public on the conservational needs of this challenged species. Visitors to the Essick Gallery in Welcome can pick up brochures on the Eastern Bluebird as well as plans for building a nesting box.