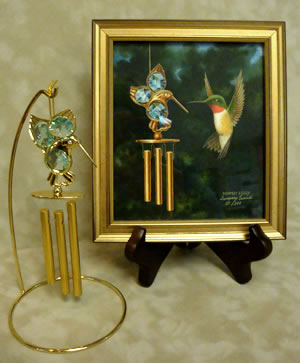 "Face to Face"
Inspiration comes in the strangest places and so it was with Dempsey Essick's latest hummingbird painting.
While in Atlanta shopping for new items for his Hummerville Gift Line, Dempsey spotted a small wind chime with a faceted aquamarine stone.
"As I held the piece and studied it, my mind wondered to a flower garden and I pondered what a hummingbird would think if he came upon this delicate chime hanging amongst the blooms. I couldn't get away from the idea and eventually it turned into a painting."
"Face to Face" is whimsical in nature and destined to be a favorite with Essick Art Lovers. While supply lasts, the complimenting gift item is included with the framed print.
This hidden hummingbird is tiny and can be found on the right hand side of the lower faceted stone beside the gold bracket.
Gift Boxed w/Easel & Chime: $37.50 (Stand for chime is included)