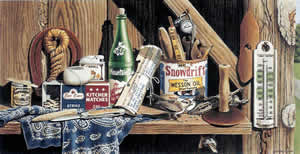 "Easy Pickins"
Every shed and garage has one. Usually referred to as the junk shelf, it's where all those items for which there is no regular peg or box, wind up. A cultivator blade, a hog scraper and an old mule shoe, all sharing a common shade of rust. The can for odd sized nuts, bolts and screws; a soft drink bottle half full of oil; these are the things that find a home on the junk shelf.
The shelf in "Easy Pickens" is located in a lean-to, beside Hubie Stafford's old tobacco barn in Guilford County, North Carolina. The hewn log barn was the subject of Dempsey's fall, 1993, release called "Hubie's Place".
Hubie's personal items; a bandanna, his snuff can and whittling knife, recall bygone autumn days when he would sleep in the shed because the wood fires had to be tended and the curing temperature had to be maintained around the clock.
The viewer, after discovering within the frame of the picture items as diverse as a broken folding rule and a box of wooden matches, comes away with the sense of having experienced a mini history of farming covering the era from animal drawn plows and wagons to present day trucks and tractors.
Almost lost among the inanimate objects, a flight of wasps stand ready to defend their nest while, just inches away, a sparrow returns time and again to carry off seeds from a dried okra pod, and in the process, give "Easy Pickens" its name.