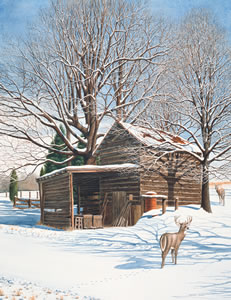 "Early Crossing"
In "Early Crossing," Dempsey Essick has captured a moment just after daybreak on a winter morning when two deer have claimed their right to make the first tracks in the new snow.
The setting is a familiar one to thousands of motorists who travel the road between Arcadia and Welcome in the northern part of Davidson County, North Carolina. The old log tobacco barn was built of hand hewn logs over a hundred years ago by William Craver and his father-in-law, Mike Evans. Kitty and Luther Craver, who live right across the road, remember having friends over for overnight sleep-outs when they'd turn the curing into a social event. When the youngsters finished high school, they were given a patch of tobacco to raise, cure and sell to pay their college tuition.
Years ago when I first started painting full time, I knew in the back of my mind that I would eventually paint the Craver tobacco barn. It is the kind of setting that appeals to me. Having grown up on a tobacco farm, I feel kinship to the way things used to be when so many of the old long curing barns were still in use. You could see slim columns of smoke rising up from them all over the countryside in the fall of the year after the tobacco crop had been harvested.
I depicted the scene early in the morning, just after daybreak, before any tracks had been made in the snow on the Welcome-Arcadia Road which passes just a few feet from the barn. And when I thought of a focal point for the picture, the deer and a buck, seemed natural both as a symbol of family and because deer are one of God's most beautiful creatures.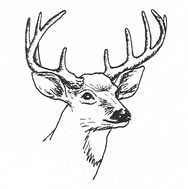 The old barn stands cold now but, with a little imagination, the viewer can envision that first autumn, at the turn of the century, before the hewn logs turned grey, when the builders, William Craver and Mike Evans, put in their first crop of tobacco to be cured. It was the beginning of a tradition of hard work and all night fire tending vigils that lasted until the final crops were sold to pay college tuition for William's grandchildren.
The viewer, perhaps, remembering other quiet mornings when the grass was brittle underfoot and sounds echoed from barren fields, becomes engrossed in the scene, discovering one delight after another. The adze marks on the logs, a missing plank on the lean-to, some old tobacco sticks, the rust on the metal roof showing through the snow, are all pleasing.
inally, it is impossible to resist the trees. Hundreds of large and small branches intertwined and overlapping in a tangle that defies description except to say that it is a typical example of Dempsey Essick'skeen perception and detailed brushwork.