Dempsey Essick is a self taught, self expressed realist watercolor artist. He is known as the Hummingbird Bird Artist; not only for the hummingbirds he paints but for the hidden hummingbirds he hides in his paintings.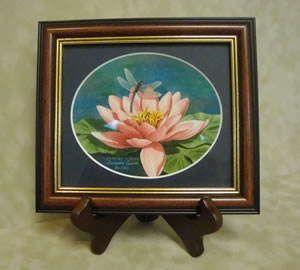 "Dragonlily"
Dempsey Essick has painted, as only he can, a lovely portrait of a dragonfly resting on a water lily. The pleasure for the viewer is having unlimited time to study the unusual flyer and to appreciate the delicate coloration and gossamer wings of the streamlined body. The painting is so realistic a viewer would not be surprised if the swift flyer suddenly levitated and zipped off in a blur of speed.
Dempsey's painting of flowers is unmatched. The delicate graduations of color of the waterlily are so real that you might wonder if an unseen rainbow trout lurks just beneath the surface.
You will find the hidden shape of a hummingbird in the center of the yellow stamens.
Gift Boxed w/Easel: $30.00
Copyright ©
• www.DempseyEssick.com •
All Rights Reserved.

Last Update: 2/7/2019