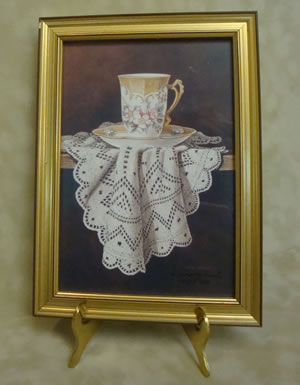 "Demi Cup & Lace"
When Donna Nixon provided a very nice porcelain demitasse (Fr. Demihalf; tasse-cup) cup and saucer for Dempsey Essick to use in one of his miniature prints, a discussion ensued as to the appropriate accessory to compliment the cup and saucer as well as enhance the picture. Donna told Dempsey's wife, Shelley, about a lady in Surry County name Ora Ellen Norman who made hand knitted lace. They borrowed one of Ora Ellen's doilies for the perfect accessory to the demitasse set.
Ora Ellen Norman is a self taught lace maker. When she was a small girl, she learned to knit using two broom straws. An uncle gave her a set of real knitting needles in exchange for a pair of hand knitted socks. For her wedding, Ora Ellen's aunt knitted lace for the hem of her petticoat and Ora Ellen used that hem as a pattern, learning each knot until she could make her own lace. She uses needles as fine as wire to make delicate designs that are intricate and light to the touch.
Dempsey Essick's rendering of the cup and saucer conveys the thin hardness of fine porcelain contrasted by the soft folds of Ora Ellen's lace. The scene captures the spirit of an after-dinner demitasse of coffee in the company of good friends.
Gift Boxed w/Brass Easel: $33.00