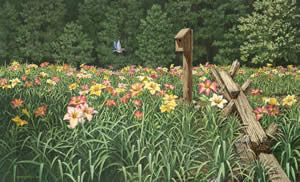 "Daylily Days"
One of the most frequently asked questions of Dempsey Essick, or any other artist, is, "How do you find the subjects for your paintings?" The answer is that there is no answer. Inspiration comes from likely and unlikely places. The artist is always alert for that certain view, or arrangement of objects, that clicks in his imagination. And when it does he usually cannot rest until he has committed the scene to a final painting.
For "Daylily Days" it all started when Ruby Potts, from the small town of Advance in next-door Davie County, attended a seniors meeting at Elbaville UMC in Advance, NC where Dempsey was speaking on his favorite subject, bluebirds. Ruby showed Dempsey a photograph of her lily field. Something about the sheer profusion of blooms and the variety of colors inspired Dempsey. He asked Ruby to let him know when the field was in full bloom.
When he visited Glenn and Ruby Potts home for the first time, Dempsey was hooked. In his own words, "The first time I walked into their back yard it was like a picture you would see in a magazine. There were flowers, birdhouses and bird feeders at every turn. An old, one-room, log schoolhouse that Glenn had moved to the site dominated the scene. When I saw the lily field, next to the schoolhouse, the painting jelled in my mind. This painting consists of three simple components, the lily field, the bluebird and box, and the very old rail fence. I thought of the bluebird as King of the Field."
Dempsey's rendering of the scene reflects his love of nature as well as his enormous skill. He has captured all the color as well as the feel of a beautiful scene. The viewer can almost feel the breeze as well as hear the rustle of the long, green, leaves of the lilies. He has captured the soft warmth of summer on the tip of his brush and has conveyed it to all his viewers.
"There is no less than one million brushstrokes in this painting. Each piece of grass, and there are thousands, required 3-6 brushstrokes to create the three dimensional look and form the necessary shadows.", says Dempsey