Dempsey Essick is a self taught, self expressed realist watercolor artist. He is known as the Hummingbird Bird Artist; not only for the hummingbirds he paints but for the hidden hummingbirds he hides in his paintings.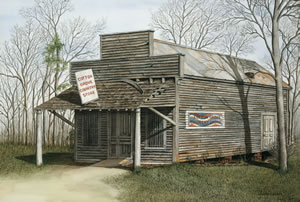 "Cottongrove Country Store"
En route to her job as Postmaster in the small community of Southmont, NC Shelley Essick daily passed the old derelict and run down Cottongrove Country Store on Hwy 8. She had for over two years begged Dempsey to do a watercolor of the local landmark to hang in her quaint little office. When she finally received it as a Christmas gift in 1988 she was thrilled.
The couple took the painting to be framed and when picking it up they were told that the shopkeeper had taken orders for 50 prints. "We were shocked as we had never considered doing prints," Dempsey said. Amazed, they took the painting to another frame shop and there received the same response. Up until now Dempsey had painted only for a hobby and he was quite shocked with all that had taken place.
To shorten up a long story, Dempsey borrowed the money to have 500 prints made and every copy sold out within two weeks time. So Dempsey began to paint and the public loved it. With the support of his wife and children, he quit his 9-5 job to devote full time to his paintbrush.
Copyright ©
• www.DempseyEssick.com •
All Rights Reserved.

Last Update: 2/7/2019