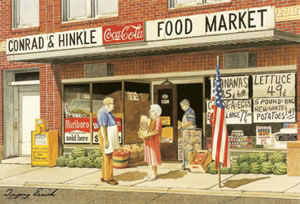 "Conrad Hinkle"
The Conrad Hinkle poster shows Dempsey's Uncle Barney in the store's doorway, as well as long-time proprietor Dwight Hinkle standing outside, both men dressed in their characteristic white aprons. Hinkle is speaking to a regular customer, Mrs. Sam Everhart, whose grocery bag includes as container of pimiento cheese that she regularly ships to an out-of-state relative.
Inside the large glass windows of the store, the viewer sees the old-fashioned, bottled Coca-Colas, and outside are stacks of cool, green watermellons, and baskets of red, country tomatoes, ripe peaches and cantaloupes. Look a little closer in the window and you will see a poster for the Davidson County Agricultural Fair, as well as a bumper sticker advertising the 1991 Lexington Barbecue Festival.
Customers and tourists come from all over the Piedmont to visit Conrad & Hinkle and most don't leave without buying the delectable homemade pimiento cheese first made by Bruce Hartley in 1948, his first year of employment at the market. Since then, the pimiento cheese has become second only to barbecue as Lexington's most sought-after culinary specialty.
Located at 6 North Main Street, in Lexington, North Carolina, Conrad & Hinkle was founded in 1919 by W. E. Conrad and E. Odell Hinkle. The store provided delivery service to its customers in the days when telephones and cars were scarce. Dwight Hinkle, son of E. Odell Hinkle, began to work at the store at the age of nine, where he learned to slice bacon in the cut-to-order meat department that remains today. Barney Allen, hired at the age of 15 as a delivery boy, hauls in locally grown produce that he hand selects.
Dwight Hinkle, sharing his thoughts about the store's says, "The last time the store was remodeled was in 1950, and customers liked it that way. They say they enjoy the feeling of stepping back in time, seeing the same decorative tin ceiling, green concrete floor and paddle fan spinning overhead that their grandparents before them saw. We knew we couldn't compete with the big food chains, so we tried to be unique. We want to thank our customers, employees, and former employees for their loyalty over the years. Without them we couldn't have made it this long."
The store is now run by Jimbo and Lee, marking the third generation of Hinkles that Barney Allen has worked with through the years.