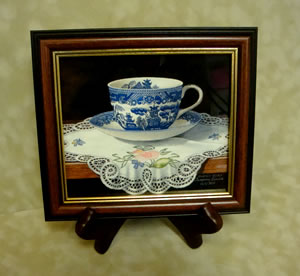 "Coffee Break"
Some of life's simplest, everyday acts can be memorable. A cup of coffee in the morning is so commonplace it passes right out of your mind. But, if you sit down with a special friend in the afternoon or evening and that special friend serves up an aromatic cup of freshly brewed coffee, in a Blue Willow cup and saucer, and that cup and saucer sits on a pristine, freshly ironed doily, you will likely remember that cup of coffee. Perhaps you'll have cause to remember it forever.
The Blue Willow Pattern is the same as that used in one of Dempsey Essick's favorite television shows, "Little House on the Prairie." This particular cup and saucer is from the collection of Jean Hildreth.
"Coffee Break" is a sister piece to the sold out thumbnail "Tea Time" which featured the Blue Willow tea pot.
The hidden hummingbird is located in the blue embroidery on the left side of the print.
Gift Boxed w/Easel: $30.00