Dempsey Essick is a self taught, self expressed realist watercolor artist. He is known as the Hummingbird Bird Artist; not only for the hummingbirds he paints but for the hidden hummingbirds he hides in his paintings.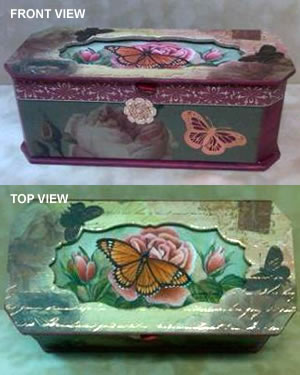 "Choice Rose" Music Box
The summertime experience is greatly enhanced when the adult butterflies are feeding.
Active all day they, they flit over the landscape looking for the choice bloom and then are quite content to feed at the nectar. Enjoy your Monarch year round with Dempsey's tiny music box featuring the image, "Choice Rose". And yes, there is a hidden hummingbird in the image.
Music Box 2 1/2" tall, 7" wide, 3 1/2"deep
Signed only $22
Copyright ©
• www.DempseyEssick.com •
All Rights Reserved.

Last Update: 2/7/2019