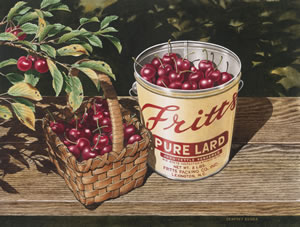 "Cherry Pickin' Good I & II"
A Pair of Prints
Dempsey and Shelley Essick have this old, black cherry pitter that has been in the family so long it is like a fixture or an old friend. Every summer they get it out and clean it up for the annual cherry harvest. This summer will be no exception.
When the cherries turn red it is like a signal flag to every bird in the neighborhood that it is "Cherry Pickin'" time. The humans have to race with the birds to get at least a fair share of the enticing fruit.
Anything easy to hold is a suitable container for picking. In his painting, "Cherry Pickin' Good," Dempsey has filled a small, hand woven, basket and an old "Fritts Packing Company" lard can. They'll empty these into a large bucket then fill them up again. The whole time the birds will be circling, squawking and waiting their chance at the tasty red berries.
In his painting, Dempsey has captured the essence of summer at that point where mother earth is beginning to yield her bounty. A few of the leaves are beginning to change color and, soon, a light sweater might feel good in the evenings. There can be no better way to end one of those cool days than to sit down to a slice of cherry pie, still warm from the oven, with a bit of rich cream to pour over it.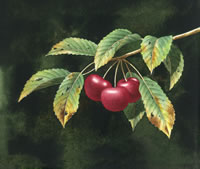 No artist working today is any more skilled at reproducing, exactly, small segments of our every day lives in such a way that each of us can see the larger picture in our minds. Never mind that each viewer may see a slightly different picture, depending on his or her past experience, the picture is still true. Great art is not just a delight for the eye but touches the heart, the soul, and the mind.
$120 for the pair