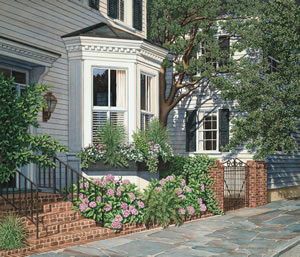 "Charleston Stroll"
If you are an artist, no matter where you go, you always see your surroundings in terms of what would look good in a painting. You fall into the habit of looking at everything in terms of light and shadow; color and shape; setting and beauty. You always have a camera with a high resolution lens to record scenes that you may want to study later. Then, when the right bells go off you might revisit the site several times at different times of day to watch the shifting patterns of light and shadow. Always you are waiting for that little light to go on in your head that says "This is IT."
Dempsey Essick was spending a few days in one of his favorite cities, Charleston, SC, where early one morning on a casual exercise stroll, he turned a corner just as the early morning sun slanted in from the ocean and spotlighted the arresting scene of a bay window (at 5 Atlantic Street) which seemed to rise out of a tier of flowers. Flanked on either side by beautiful brickwork, wrought iron railings and a gate leading to a side yard with a large crape myrtle tree, the texture of the scene was enhanced by a wide, flagstone walkway.
The scene was almost made to order for an Essick painting combining, as it does, striking beauty, the texture of brick and flagstone with a lovely wrought iron gate and an abundance of hydrangeas and impatiens to attract the long bill of any passing humming bird.
So, Dempsey got out his palette and his watercolors and went to work. Slowly, stroke by stroke, hour by hour, he carefully recreated the scene for the pleasure of everyone who sees "Charleston Stroll." Everything is here for the Essick connoisseur from the carefully created individual leaves to the varied shades of gray in the broken and uneven flagstones, to the texture of the bricks and the wrought iron gate. The low angle of the early morning sun creates long shadows that delineate each board in the houses, make mirrors of the windows, and emphasize the trees and lower foliage.
If Dempsey has an identifying mark it is a hummingbird and he couldn't resist the opportunity to include one here, busily sipping nectar from one of the flowers. For those who love locating the rebus hummingbird he traditionally includes in all his paintings, that one is here too but you have to find it.
Print owners will delight in the fact that Dempsey, at no charge, will retouch the mortar of the slate sidewalk by adding a name, initials, or a special date.